India's Jitu Rai on Thursday won a historic gold medal in the men's air pistol event at the ISSF World Cup in Maribor, Slovenia.

Jitu, who had won a silver medal in the free pistol competition, shot 200.8 in the final round to clinch the gold in the air pistol event.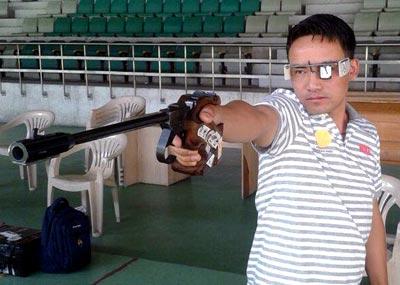 The 26 year old pistol shooter, who won his third World Cup medal in a span of nine days, said his next target is to win medals at the Commonwealth Games and Asian Games later this year.

"To win a Gold medal at a World Cup event and to hear the Indian National anthem play is a dream come true for me. I have worked really hard for this. I must thank the NRAI and especially OGQ for their support. Now my focus is on the CWG and the Asian Games later this year," he said.

Jitu becomes the first Indian shooter to have won two medals in a World Cup. He recently won 1 Silver medal each in the Munich and Maribor World cups in the 10 m air pistol and 50 m free pistol respectively.

He shot 584 out of 600 and was ranked third in the qualification round. He had a series of 98, 98, 97, 98, 97, 96.

Carrera Pablo of Spain won the silver with a final score of 198.7, while Russia's Gourianov Anto bagged the bronze with a final score of 177.2.

Another Indian in the fray, P N Prakash finished a creditable fifth with a final score of 137.4. Prakash was fourth in the qualification round with a total score of 581 out of 600.
- Unique initiative by OGQ to raise money for Indian athletes

Elated with Jitu's consistent medal winning performances Viren Rasquinha, CEO, OGQ said, "Jitu is just a magnificent talent and I compliment my research team on unearthing this gem. OGQ is very proud to support his training and we will do everything possible to help him win many more medals for India. We recently purchased a new 10m Air Pistol for Jitu. Going ahead, pellet and ammunition testing abroad is an area where we feel that we can help him."
Image: Jitu Rai
Photograph courtesy: Olympic Gold Quest