World No 1 Serena Williams breezed past older sister Venus 6-1, 6-2 in their first meeting since 2009 in the semi-finals of the Family Circle Cup in Charleston, South Carolina on Saturday.
Serena, who won her fifth match in a row against Venus, will face former number one Jelena Jankovic of Serbia in Sunday's final as she goes for her third Family Circle title.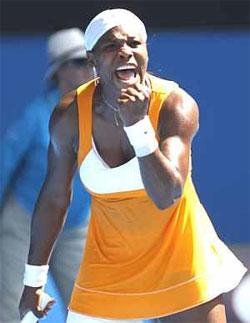 Jankovic outlasted Switzerland's Stefanie Voegele 6-4, 6-7, 6-2 in a much tougher encounter lasting two hours and eight minutes.
Serena, 31, needed only 22 minutes to take the first set against the fifth seed Venus, delivering eight winners to zero unforced errors.
She then completed the 54-minute straight-set victory over 32-year-old Venus to prevail for the 14th time in 24 matches against her sister.
"Venus has had a great week, and honestly, if she hadn't had to play so many matches, it would have been a much tougher match," Serena said.
The semi-final came a day after both had played third-round and quarter-final matches on Friday because of rain delays earlier in the week.
"She'll never admit it, but I don't think she was 100 percent," Serena said.
"But you will never get that out of her.
"And quite frankly, three matches for her is much tougher than three matches for me. It's definitely not easy -- because I'm struggling, and I can't imagine what she must be feeling."
Venus was playing in her second Premier-level semi-final since returning from her seven-month illness lay-off in March last year.
"I felt pretty good actually -- it would have been nicer to have more space between the matches, but it did not work out," she said.
Jankovic, 28, gave the 63rd ranked Voegele hope after losing the second set tiebreak before stepping on the gas in the final set, winning the last four games for the victory.