Steffi Graf retired in August 1999. Arantxa Sanchez-Vicario walked away from tennis three years ago this month and Martina Hingis has also built a life outside tennis.
Another former world number one, queen of the courts in the early 1990s, has not played since a crushing defeat in the first round of the 2003 French Open, yet Monica Seles still refuses to call it quits.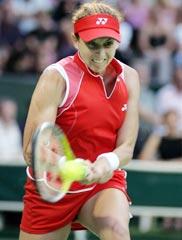 Friends of the nine-times Grand Slam champion are unsure whether Seles, now 31, can return to the circuit but they are still hoping she will be able to give it one last go.
"I think she would like to come back but the longer she waits, the chances are less and less that she will," Seles's friend, former player Mary Joe Fernandez, said.
"The longer she's out, the tougher it's going to be to come back and compete at the high level that she was once at and that's what she wants."
Last year another friend and former Fed Cup team mate, Lindsay Davenport, saw little chance of the Yugoslav-born American making a comeback.
"I think she's done," Davenport said. "I think she's loved her last year and won't go out there and play unless she's the good Monica that's everyone's used to.
"I'd put a comeback at five percent."
Before her loss to Nadia Petrova at the 2003 French Open, Seles had suffered injuries in her feet for each of the previous six years. She chose not to undergo surgery and was hoping that her stress fractures would heal naturally.
FOOT PROBLEMS
In 2004 she was able to compete in World Team Tennis but was blown away by players she would have beaten easily in her prime.
This year, she played a couple of exhibitions early in the year but was not fit enough to attempt a return to the regular tour, as the much younger Hingis did in February.
Hingis, whose retirement was also caused by foot problems, played in the Thailand Open and lost her first match 1-6, 6-2, 6-2 to German Marlene Weingaertner in February. The Swiss does not intend to repeat the experience.
In September, Seles told the New York Times that her left foot had all but healed, but still occasionally hurt her.
She added that she was playing four to five days a week but she would not commit to when she would attempt a return.
"I think the only way to come back is to be at a certain level," Seles told the Times. "When I left, I was in the top 10 and I want to be able to compete at that level. I couldn't do it any other way."
Like Martina Navratilova, Seles was born in Eastern Europe. She knew how the other half lived and her dedication to tennis was total.
The game has been her life and she may still have a sense of unfinished business after being forced to stay away from tennis following her stabbing in April 1993.
She was aged just 19, ranked world number one and had won five of the previous six Grand Slam titles when she was knifed in the back by a Graf fan at a changeover during a match in Hamburg.
LONG ABSENCE
Following a 27-month absence from the tour, she captured only one more Grand Slam title, the 1996 Australian Open, and it was Graf who profited most from her layoff.
Bulgarian Magdalena Maleeva, her opponent in Hamburg that day, retired last month.
Seles, number one for 178 weeks, will turn 32 in December. A woman's player of 30 years or older has not won a Grand Slam singles since Navratilova triumphed at Wimbledon in 1990 aged 33, and the odds are firmly stacked against Seles.
"I'd say it's improbable, but possible," said Seles's former coach, Michael Sell.
"I'd know she'd love to come back but she's the type of player who needs to play a ton of tournaments to be at her best, which will be difficult with the injury.
"But I'll tell you what: when she sees players like Anastasia Myskina and Svetlana Kuznetsova winning Grand Slams, she feels like she can beat those types of player regularly. So I'm sure she's still tempted."
Seles is said to be enjoying her life in Florida.
She is pursuing off-court interests such as architecture, but that has not stopped her thinking about a final hurrah.
"I honestly think that she doesn't want to end her career with an injury," Fernandez said. "But she's very smart and knows that if she can't come back at 100 percent, she has no chance of getting back into the top 10 and competing for Grand Slam titles.
"So she'll either come back strong, or quietly fade away. You won't see any farewell tours."