Sania Mirza has turned down an offer to partner Pakistan's Aisam-ul-Haq Qureshi in the international circuit despite the Pakistani expressing interest to play alongside the Indian tennis star several times in the past.
Sania is currently partnering India's Mahesh Bhupathi, who is ranked 15th in the doubles, a place behind Aisam in the mixed doubles competitions on the international circuit. Aisam is now playing limited mixed doubles events, partnering Czech Republic's Andrea Hlavackova on the court.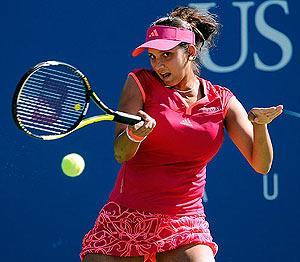 "I'm playing quite well with Bhupathi in Grand Slams so I don't think I need to change anything right now," Sania, who is ranked eighth in doubles, told the Express Tribune.
"Playing with Aisam right now is not possible," she added.
Sania, who is married to former Pakistan cricket captain Shoaib Malik, also ruled out playing in Pakistan in the near future despite an invitation from the Pakistan Tennis Federation (PTF).
The PTF has been keen on getting Sania to play exhibition matches or take up a coach's role  in Pakistan ever since she married Malik.
The Indian, however, ruled that out too, citing complete absence of international tournaments in Pakistan.
"I haven't asked for a huge pay cheque in order to feature in charity matches in Pakistan. But as far as competitive matches are concerned, there are, unfortunately, no international tournaments taking place in Pakistan for obvious reasons. So there's no chance I can play there," she said.
Sania also ruled out a visit to Pakistan any time soon as she is having a busy schedule, especially with the 2012 London Olympics just over three months away.
She needs to stay in the top-10 till June 11 cut-off date in order to be eligible for the Olympics.
Sania confirmed that she has given up playing singles after undergoing her third surgery in the last five years.
"Tennis and the surgeries take a lot out of you. I realised at the start of the year that it was impossible for me to pursue a singles and doubles career. Ever since I've given up on my singles career, my performance in doubles has improved," said Sania, who is currently writing a book on her career and the important phases of her life.
"I even reached a career-best seventh in the world and that's why I've decided to concentrate solely on doubles tennis," she insisted.