United States Ryder Cup captain Davis Love III was left stunned as Europe stormed back from a 10-6 deficit to steal the golden trophy from under American noses at Medinah Country Club on Sunday.
While the European winners and their fans sang and celebrated in the twilight, the shockwaves of the loss washed over the US team and the massive crowd of mostly American supporters that had come out on brilliant Autumn afternoon expecting to cheer a victory that had appeared in the bag.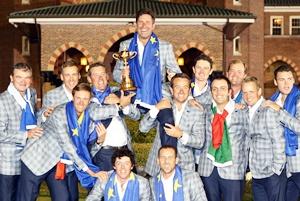 In the immediate aftermath of the collapse no one was at more of loss to explain the American meltdown than Love, who had even tipped Jason Dufner, playing in the ninth of 12 matches, as the man to secure the victory.
"I don't have a reaction yet, we are all kind of stunned," Love said. "We know what it feels like now from the '99 Ryder Cup.
"It's a little bit shocking. We were playing so well, everyone on our team was playing so well, we just didn't figure it didn't matter who we sent them out there.
"We put who we thought was our hot players up front and who we thought was our steady players in the back that would get us points and we all thought it would come down to Jason Dufner.
"He played very, very well. We got a couple matches flipped there in the middle that cost us."
Love has now seen the Ryder Cup's greatest comebacks from both sides, having been part of the U.S. winning fight back from an identical deficit on home soil at Brookline in 1999.
"Well, it's exactly the same score," said Love. "They came back and won. Give them a lot of credit, they played very, very well.
"They got on a couple of hot streaks the first two days and that kept them in it.
"Guys that started hot (for us) the first couple of days, did not start hot today.
"It was tough."
Photograph: Andy Lyons/Getty Images