In a generally disappointing season for Manchester United, teenage striker Wayne Rooney has shone like a beacon of hope for the troubled club.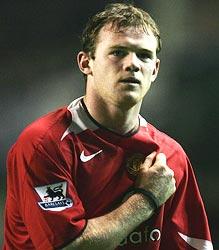 The 19-year-old Rooney has scored 17 goals in 42 games since arriving at Old Trafford for 27 million pounds ($49.59 million) from Everton.
The bare facts, however, disguise Rooney's true importance to his club, who even before being taken over by American Malcolm Glazer had finished third in the English Premier League and failed to reach the Champions League quarter-finals for the second successive season.
Rooney's United debut was delayed by the foot injury which ended his Euro 2004 campaign prematurely but it could not have been more spectacular.
Just 17 minutes into a Champions League match against Fenerbahce at Old Trafford, he ran on to a through ball and lifted a left-foot shot calmly over the goalkeeper and into the net.
A few minutes later he cleverly made space on the edge of the penalty area and drilled a right-footed drive into the far corner before curling in a 20-metre free kick to complete a stunning hat-trick.
Two sumptuous strikes followed against Middlesbrough in the FA Cup, one a dipping volley and the other an audacious long-distance chip, but Rooney saved his most startling goal for a Premier League game against Newcastle last month.
BEST GOAL
With an out-of-sorts United trailing 1-0 and struggling to break down a depleted Newcastle side, Rooney burst on to a headed clearance and, without breaking stride, volleyed the ball like a tracer bullet into the top corner of the net.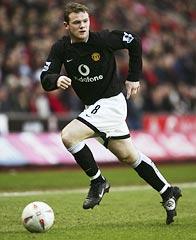 Rooney described the goal as his best ever.
"I've always liked striking the ball and hitting it as hard as I can," Rooney said. "If you can hit the ball as hard as you possibly can you've always got a chance."
Power may be Rooney's favoured scoring method but his football shows plenty of more subtle qualities.
Never afraid to play a simple pass or to stand still while assessing the options around him, Rooney demonstrates great maturity for such a young player.
He has often played wide on the left for his new side as United manager Alex Ferguson has tinkered with his formation but the new role has not caused the teenager any problems.
"When you play on the left, like I have this season, you have to become a lot fitter to get up and down the pitch," he said. "It suits me as well sometimes, cutting in from there on to my right foot and shooting. I'm happy to play anywhere."
PURE STRENGTH
Rooney, who has scored nine goals in 21 internationals, has impressed his team mates.
"It is not just his skill but his pure strength," said United and England defender Gary Neville.
"Sometimes in training you look as if you are getting the ball and he just brushes you off.
"There aren't many who can run with the ball, not just in England but in European football, who can pick it up in central areas and go past players.
"He is one of those players who can do it and we are blessed to have him. We've got to nurture him, look after him."
Rooney gets another chance to showcase his talents in Saturday's FA Cup final against Arsenal, Everton's opponents when as a 16-year-old he announced his arrival in the Premier League with a magnificent late winner.
Rooney also scored United's second goal when they ended Arsenal's 49-match unbeaten Premier League run in October, and it would be no surprise if he had a major influence on the outcome of the showpiece game in Cardiff.