Ronaldinho's first encounter with Brazil coach Dunga was when the two were on opposite sides during a derby in Porto Alegre in June 1999.
Ronaldinho, playing for Gremio, was a little-known goofy-grinned teenager in his first full year as a professional.
Dunga was a hard-nosed, seasoned international in the twilight of his career who had captained Brazil to two successive World Cup finals and was enjoying a final stint with Internacional, the club where he had started out.
Yet Ronaldinho gave Dunga one of the most torrid afternoons of his career, at one stage nutmegging his battle-scarred marker as, virtually single-handedly, he led Gremio to a 1-0 win in the final of the Rio Grande do Sul state championship.
Many feel that Dunga was never the same afterwards and he retired at the end of that year, halfway through his two-year contract with Internacional.
Seven years on, Ronaldinho is once again proving to be a handful for Dunga, even though the circumstances are very different and the two are now on the same side.
Dunga, now 43, has made an excellent start as Brazil coach as he attempts to rebuild the side following last year's miserable World Cup performance, leading his team to four wins and a draw in their first five outings.
He will defend that record against Luiz Felipe Scolari's Portugal in a friendly in London on Tuesday.
As expected for a man famed for his ruthless, never-say-die approach as a player, Dunga has not been afraid to make tough decisions.
Strikers Ronaldo and Adriano, who both underperformed in Germany, have been left out, although Adriano has finally been given a recall for the Portugal match.
PUBLIC DISILLUSIONED
Those decisions struck a chord with the Brazilian public, who were thoroughly disillusioned with the pair during the World Cup.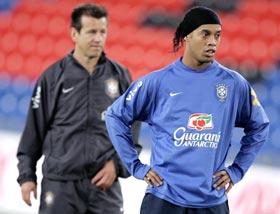 Dunga is treading on much thinner ice over his treatment of Ronaldinho, another of Brazil's so-called Magic Quartet.
After being left out of Dunga's first squad, the former Player of the Year has unceremoniously been dumped on the substitutes' bench.
Ronaldinho has started only one of Dunga's five full internationals in charge and has been told he will have to fight for his place in the team, just like the other players.
"The Brazilian national team has a squad of 22 players of whom 11
can play," Dunga said recently. "I pick the 11 who are in the best technical and physical conditions.
"A player needs to help with the marking and occupying spaces," he added, dismissing the idea that Ronaldinho would be excused the dirty work on the field.
"I pick the team on what I see on the field and on the statistics we keep."
The policy already has the critics straining at the leash, notably Tostao, a forward in the 1970 World Cup team and now one of Brazil's best-known columnists.
"My main reservation as far as Dunga is concerned is his attitude to Ronaldinho. He thinks that Ronaldinho's style is too artistic, that he's not a team player, which isn't true. Dunga's concepts are those of a workman."
Dunga is not alone in his dilemma nor is he the first Brazil coach to leave Ronaldinho on the bench.
PELE COMPARISON
Over the years, Ronaldinho has been seen as a player who performs better for his club than his country.
Ronaldinho began his international career in style, scoring a goal in the 1999 Copa America against Venezuela which was compared to Pele's heroic effort in the 1958 World Cup final against Sweden.
However, after that Ronaldinho was rarely used by coach Vanderlei Luxemburgo, who on one occasion dropped him on the allegation that he was overweight.
Scolari, who led Brazil to World Cup victory in 2002, was probably the closest any Brazil coach has come to coaxing the most out of him.
Carlos Alberto Parreira, who coached from 2003 until the 2006 World Cup, stuck faithfully with Ronaldinho and tried to get the best out of the player.
While Ronaldinho's goals flowed for Barcelona they dried up with Brazil and he has not hit the target for his country since the Confederations Cup final against Argentina in 2005.
The advice for Dunga, however, is to ignore Ronaldinho at his peril.
"Ronaldinho is an extraordinary player," said Muricy Ramalho, coach of Brazilian champions Sao Paulo. "You have to have room for players such as him. On the other hand, if he is out of shape, it's best not to select him at all."
Former Brazil captain Zico had the starkest warning.
"If that's his thinking, we have to respect it," said Japan's World Cup coach. "The results will say if he is right or not. But when a coach gambles on something, he knows the risks he's running."