Tradition won the day on Sunday when the French tennis federation decided to keep the French Open at a renovated Roland Garros and rejected plans to move the tournament to the Paris suburbs from 2016.
A federation statement said delegates had opted for the "enlargement and modernisation of the historic site at Porte d'Auteuil for the new Roland Garros".
Versailles, Gonesse and a site in Marne-la-Vallee close to Disneyland Paris had bid to take the only clay court Grand Slam out of the French capital and offer more space.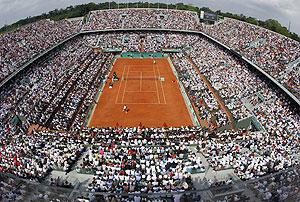 However, in a federation ballot on Sunday, Gonesse lost in the first round, Versailles in the second with Paris then taking 70 percent of the vote in the final round against Marne-la-Vallee.
Although, the ageing and cramped Roland Garros in the west of Paris near the Bois de Boulogne will now be redeveloped it is still likely to be the smallest Grand Slam venue.
The Australian and US Opens have much more modern facilities while Wimbledon has added a roof to its centre court.
Retired former world number one Amelie Mauresmo, the face of French tennis for many years, was among a number of players who were keen for the tournament to change location.
"I think that in Paris today we don't have the possibility to have the necessary space to develop Roland Garros," she told Reuters.
"We are the smallest of the four Grand Slams and I think it is important to have the chance to grow, and for the public to have more room."
Media reports had expected Paris to win the vote in the end but there was speculation a run-off with Versailles, the site of the royal palace, might be needed.