A dejected Indian football coach Colaco Colaco blamed his team's 0-3 defeat at the hands of United Arab Emirates in a World Cup qualifying match to the two red cards his side was handed, saying they were "not justified."
Colaco lauded his boys for "playing a spirited game despite being reduced to nine-men" in Saturday's match.
Colaco said the "Red Cards were unnecessary and not justified."
The 0-3 scoreline does look one-sided but Colaco insisted that with two of his players red-carded by the 24th minute itself, it could have been worse.
"Everyone saw the match today and can easily make out what was right and what was wrong. The match was evenly poised and we were neck to neck before the two penalties were awarded," he said.
First Debabrata Roy was red-carded for pushing Mohammed Al Shhehi in the box (Hamdan Al Kamali converting form the spot in the 21st minute) and then goalkeeper Subrata Pal was given marching orders for an infringement on Ismail Al Hammadi in the 24th minute (Mohamed Al Shehhi converting this one).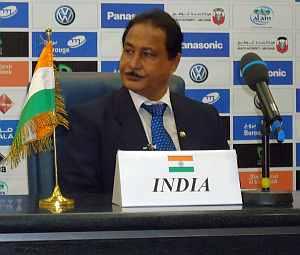 Colaco admitted "Subrata's loss was a big blow to the team."
"He is not only a great goalkeeper but he organises the defence very well. Nevertheless we will put our best foot forward in the home game."
The second-leg is slated to be played at the Ambedkar Stadium in New Delhi on July 28.
Colaco, however, refused to accept that India would enjoy a distinct advantage while playing at home.
"We will be playing at home and result can be overturned but it will be difficult to come back from a three-goal deficit," he maintained.
Colaco lauded substitute goalkeeper Karanjit Singh for putting up an excellent show under the bar.
"I appreciate the efforts each one put on the field. All nine players played exceedingly well, especially Karanjit -- who had an outstanding game," he said.