Equipped with management skills after a stint at the Indian School of Business, Hyderabad, former hockey ace Viren Rasquinha is back to contribute to Indian sport by joining the Olympic Gold Quest as Chief Operations Officer (COO).
The former Olympian and national captain, who quit hockey last year to pursue advanced studies, feels his experience as a player and degree in management would help him make a difference to Indian sport.
Olympic Gold Quest was founded by billiards great Geeth Sethi and badminton legend Prakash Padukone.
"The one-year stint at ISB has taught me a lot in what it takes to be a good manager and leader and I am really looking forward to working closely with legends like Geet and Prakash," he said.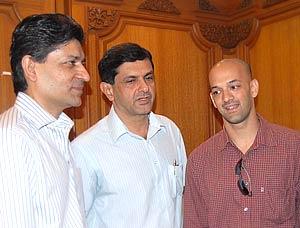 "Sport is something that has given me so much in life and I truly believe that I can make a difference to sport in India with my experiences as a player and my management background," added an excited Rasquinha.
Asked what would be his thrust area, the 2005 Arjuna Awardee, with 180 international caps under his belt, said he would identify talent and help it reach the top.
"The challenges are enormous but it is very exciting for me to work with a fantastic team at OGQ. My thrust areas would be identifying the most talented athletes in the country in individual Olympic sports and those with potential to win an Olympic medal and really do everything possible to take them to the highest level of performance," he said.
Rasquinha, an immensely gifted midfielder known for his fearless tackling skills, tireless running and calm temperament, also played for Stuttgart Kickers in the German Bundesliga in the 2007-08 season.
After quitting the game in 2008, Rasquinha did his MBA at the Indian School of Business, Hyderabad which is ranked 15th in the world in the Financial Times (FT) world rankings for MBA schools. He has a dual major in Marketing and Strategy.