With four days to go for the crucial meeting between Indian officials and the International Olympic Committee, efforts to persuade acting Indian Olympic Association president VK Malhotra and IOC member in India Randhir Singh to reconsider their decision to pull out have not borne fruit with both insisting on staying away.
Malhotra and Randhir had decided to boycott the meeting came a day after the IOC agreed to include Hockey India General Secretary Narinder Batra and Jharkhand Olympic Association R K Anand in the IOA delegation for the meeting, in addition to the four-member list submitted earlier.
The meeting, which is expected to draw a roadmap for India's return to the Olympic fold, will also be attended by Sports Minister Jitendra Singh, sports secretary P K Deb, Beijing Olympics gold medallist shooter Abhinav Bindra and Olympian sailor Malav Shroff.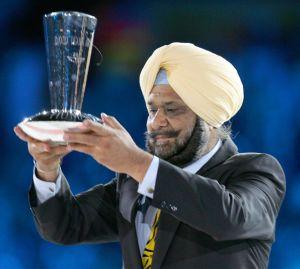 Randhir, who was expected to play a key role in the parleys pulled out expressing unhappiness over the composition of the delegation.
There were reports that he could still go to Lausanne and that his stand was a pressure tactic.
"There is no change in my stand, I am not going to Lausanne. I am not trying to use any pressure tactics," Randhir said.
Asked how the IOA delegation would go to Lausanne when its acting president has withdrawn, Randhir said, "I don't know. As far as I know, Malhotra has withdrawn his four-member delegation, so, anybody who goes there has no recognition."
Taking a dig at those who have decided to go despite the withdrawal, Randhir said, "Anybody can go to Lausanne as tourists. It is a wonderful place and everybody would like to go there."
It is learnt that sports secretary P K Deb also called up Randhir urging him to reconsider his decision but the veteran administrator has not relented yet.
Malhotra was scheduled to meet IOC representatives from 8:30 am to 9 am (local time) as per his request but that time slot may now be used for the joint meeting.
The joint meeting was scheduled between 9 am to 12 noon. It would be followed by the Sports Ministry delegation making a courtesy call to IOC President Jacques Rogge between 12 to 12:45 pm followed by the IOA delegation, which would get just 15 minutes starting 12:45 with the IOC chief.
The IOC has already sent a message to the Swiss Embassy to expedite the visa formalities of all the visiting delegates.
The IOA delegation will leave for Lausanne on Tuesday morning while the Sports Ministry officials are going earlier.
Photograph: David Gray/Reuters