Germany's Armin Kremer (co-driver Fred Berssen), driving a Mitsubishi Lancer Evolution 7 in Team MRF Tyres colours, won himself a birthday gift as he emerged Group N (unmodified) champion in the 2003 FIA-Asia Pacific Rally Championship, in Pune on Friday.
Kremer, the 2001 European champion, who led Japan's Fumio Nutahara (co-driver Satoshi Hayashi) by 66 points to 54, going into the MRF India Rally, the fifth and concluding round of the 2003 APRC series, clinched the Group N title when Nutahara retired following a crash in Special Stage-3.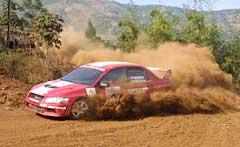 As a bonus, Kremer, who celebrated his 40th birthday on Thursday, topped the time charts at the end of Day One and with it earned three points for being the quickest in Leg 1. These points saw him overhaul the overall championship leader, Geof Argyle (co-driver Steve Smith) of Racetech Seats, New Zealand, and lead by 46 points to 45.
Argyle, driving a Group A Mitsubishi Lancer Evolution 6.5, lost considerable time due to a puncture, a broken strut and an overheating engine that capped a rather disappointing outing as he returned to the cool of his hotel room without a point after finishing fifth in Leg 1.
Meanwhile, the other championship contender, Malaysia's Karamjit Singh (co-driver Allen Oh), driving a Group A Proton Pert for Team Petronas Eon Racing, lost two minutes in SS-5 due to a puncture. That saw Karamjit, the 2002 APRC and World champion (production car class) vacate his No.1 spot to Kremer who finished the day a minute ahead.
Despite the handy advantage, Kremer remained focussed. "Yes, it is good to win the Group N championship, but tomorrow (Saturday) would be crucial as I am sure, Karamjit will be pushing hard to make up time. A one-minute lead is nothing much and I need to drive well to hold off both Karamjit and Argyle."
Kremer did well to keep his wits about him after suffering a puncture in SS-3. "I somehow managed to finish the Stage, but lost about 18 seconds due to the puncture," said the three times German champion.
The second Team MRF Tyres entry of David Doppelreiter of Austria (co-driver Ola Floene of Norway) drove conservatively to finish Leg 1 fourth Overall and third in Group N, behind Kremer and Domenico Caldarola (co-driver Paolo Cecchni) of Italy, the 2002 APRC champion in this category.
Meanwhile, in the MAI Indian National Rally Championship, the seventh and concluding round of the series, witnessed a high rate of attrition. Karandip Singh (co-driver Jaidas Menon) of Team MRF, driving a Honda City V-tec, finished Leg 1 Overall first, over four minutes ahead of Jiby Maliakkal (co-driver Nikhil Pai).
The INRC saw National champion V R Naren Kumar (co-driver D Ramkumar) along with his Team MRF team-mates N Leelakrishnan (Farooq Ahmed), Arjun Balu (Kumar Ramaswamy) and Vikram Mathias (Sujith Kumar), retire due to mechanical problems.
Provisional/unaudited classifications after Leg 1 (90.08 Kms):
APRC Overall: Team MRF Tyres (Armin Kremer/Fred Berssen) 1 (1hr, 21mins, 34.9secs); Team Petronas Eon Racing (Karamjit Singh/Allen Oh) 2 (1:22:34.9); Domenico Caldarola/Paolo Cecchini 3 (1:23:14.5); Team MRF Tyres (David Doppelreiter/Ola Floene) 4 (1:23:49.2); Force Motorsport Ltd (Andrew Hawkeswood/Paul Fallon) 5 (1:26:08.1); Team Racetech Seats (Geof Argyle/Steve Smith) 6 (1:30:30.3); Monster Sport Australia (Chris Atkinson/Ben Atkinson) 7 (1:32:58.0); Team Racetech Seats (Brian Green/Fleur Pedersen) 8 (1:33:38.8).
APRC Group N: Kremer/Berssen 1; Caldarola/Cecchini 2; Doppelreiter/Floene 3.
Leg points: Kremer/Berssen 3 pts; Karamjit/Oh 2 pts; Caldarola/Cecchini 1 pt.
MAI-INRC Overall: Team MRF Tyres (Karandip Singh/Jaidas Menon) 1 (1:35:44.4); Jiby Maliakkal/Nikhil Pai 2 (1:40:31.2); Lohit V Urs/Moosa Sherif 3 (1:42:24.5); Team Movva (Rahul Kantharaj/Vivek Bhat) 4 (1:47:08.7).
Rally Star Cup: Team Mandovi (Arjun Rao Aroor/CK Chinnappa) 1 (1:48:00.7); Ranjit Ballal/Shanmuga Nataraj 2 (1:48:34.7); Team GMW (Sanjay Agarwal/Ashwin Naik) 3 (1:50:28.9); Prithveen Rajan/Jay Kumar 4 (1:52:37.3).