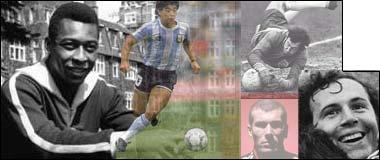 Who is the world's greatest footballer?
16. Eusebio da Silva Ferreira (Portugal)
Position: Striker
World Cup: 1966
With nine goals, Eusebio was the top scorer of the 1966 World Cup in England. His lightning acceleration and wonderful dribbling skills earned him acclaim, fame and the nickname: Black Panther. His trademark was a spectacular shot, which, allied to his powerful running and dribbling skills, made him one of the most dangerous strikers of his era.
He was the Portuguese League's top scorer in 1964, 1965, 1966, 1967, 1968, 1970 and 1973. He was the top European scorer in both 1968 (42 goals) and 1973 (40 goals).
A bad knee injury forced him to retire at 32.
17. Paolo Rossi (Italy)
Position: Striker
World Cup: 1978, 1982
Rossi's promising debut at the World Cup in 1978, where he scored thrice as Italy finished fourth, was overshadowed in 1982 by a three-year ban for alleged match-fixing.
But Italian coach Enzo Bearzot remained a huge admirer of Rossi's goal-poaching skills, and when the ban was reduced to two years in the run-up to the 1982 World Cup, he had no doubts about taking Rossi to Spain.
Rossi scored six goals in an inspirational display, that helped Italy win the World Cup, earned him the golden boot and later the European Player of the Year award.
18. Paolo Maldini (Italy)
Position: Defender
World Cup: 1990, 1994, 1998, 2002
An attacking left-back in his younger days, Maldini changed with time to become one of the most dependable defenders in recent times. He remains one of the most talented and perceptive defenders in the world. He is the Azzurri's most capped player and a veteran of four World Cups.
He completed a unique family double when he emulated his father Cesare and captained AC Milan to their penalty shoot-out victory over Juventus in the Champions League final at Old Trafford last year.
Never before had a son followed his father in leading the same club to victory in Europe's premier competition -- or any other major final. Cesare led Milan to their first European Cup success when they beat Benfica 2-1 at Wembley 40 years ago.
19. Ferenc Puskas (Hungary)
Position: Striker
World Cup: 1954 (2nd)
Puskas was known as the Galloping Major, a reference to the fact that he was an officer playing for an army team. Later, when he was exiled in Spain, he became known as the little canon. His left foot packed a thunderbolt shot which fetched him 84 goals in 85 internationals. He is the only player to have scored four goals in a European Cup final.
He also made four appearances for Spain in his time at Real Madrid but failed to score. His 84 international goals were an all-time record until 2003, when it was broken by Iran's Ali Daei.
20. Alfredo di Stefano (Argentina)
Position: All round
Considered by many as the greatest player of all time. He was a player with extraordinary versatility and incredible stamina. Although generally referred to as a centre-forward, he played in defence, midfield and the forward line.
Di Stefano was the inspiration behind Real Madrid's five successive European Cups. He scored a goal in each of the first four finals and a hat-trick in the fifth, which resulted in a 7-3 win over Eintracht Frankfurt.
His amazing fitness allowed him to be defending one moment and pop up on the edge of the opposition's area to score a goal the next.
He played for both Argentina and Spain, but for various reasons beyond his control, never made it to a World Cup final.
Who is the greatest footballer?

Diego Maradona
Gordon Banks
Ronaldo
Pele
Peter Schmeichel
Bobby Charlton
Zinedine Zidane
Michel Platini
Franz Beckenbauer
Garincha
Gerd Mueller
Dino Zoff
Marco van Basten
Johan Cruyff
George Best
Eusebio
Paolo Rossi
Paolo Maldini
Ferenc Puskas
Alfredo de Stefano



View Current Results