Leander Paes won his eighth Grand Slam men's doubles title when he and Radek Stepanek of the Czech Republic beat the second seeded Austria-Brazil pairing of Alexander Peya and Bruno Soares in the US Open men's doubles final 6-1, 6-3 on Sunday.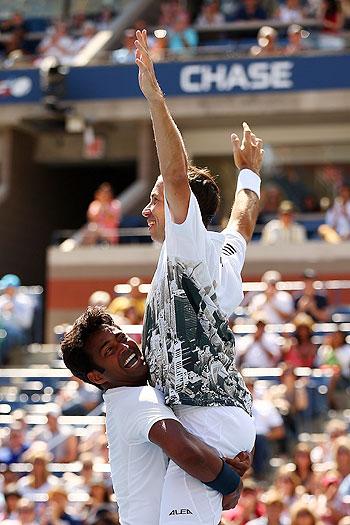 In the process Paes emulated his former mixed doubles partner and tennis legend Martina Navratilova by winning a Major after attaining the age of 40.
It is also his third US Open doubles title.
For Stepanek, it is second major doubles title after winning the 2012 Australian Open with Paes.
Peya and Soares were appearing in their first final.
The US Open is one major where Paes has been consistent. He won the doubles title in New York in 2006 and again in 2009, on both occasions partnering Czechs -- Martin Damm and Lukas Dlouhy respectively.
He was also a beaten finalist in 1999 (partnering Mahesh Bhupathi), 2004 (with David Rikl), 2008 (with Dlouhy) and last year (with Stepanek).
Paes-Stepanek got off the blocks in grand style, taking a 2-0 lead after an early break of serve.
Soon it was a double break and the fourth-seeded Indo-Czech pair was up 4-0.
Stepanek then held serve to make it 5-0 before the Indian veteran played a neat service game and held to close out the first set 6-1.
An early break of serve put Paes-Stepanek 10 ahead in the second set. They did well to save a break-point and go 2-0 up in the second set.
After a long 10-minute third game Peya-Soares held serve to cut Paes-Stepanek's lead to 2-1.
Games went with serve -- Paes serving a love service game to make it 4-2 -- before the fourth seeds held well to clinch the issue.
Image: Leander Paes (L) of India and Radek Stepanek (R) of the Czech Republic celebrate winning the US Open title on Sunday
Photograph: Elsa/Getty Images