Livid with Abhinav Bindra's sustained campaign against tainted officials in the Indian Olympic Association, the suspended body's president Abhey Singh Chautala launched a stinging personal attack on the Olympic gold-medallist shooter, saying he should first sort his house in order before commenting on others.
- Bindra slams IOA on chargesheet issue, asks IOC not to back out
Chautala took a dig at the former world champion's industrialist father, A S Bindra, who was arrested in 2009 for alleged financial irregularities.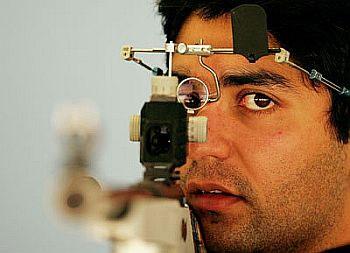 "If Bindra feels that chargesheeted people should be stripped of their positions then he should throw his father out of his house or leave his house himself," Chautala, a senior leader of the principal opposition party in Haryana -- the Indian National Lok Dal – told newspersons in Chandigarh.
The comment drew sharp reaction from the National Rifles Association of India (NRAI) with its president Raninder Singh saying "Chautala should focus on putting his own house in order".
"It's like the big pot calling the small kettle black. People who live in glasshouses should not make such statements. Our Olympic medallist is being attacked with very shallow words. I know the Bindra family well. He (Bindra) has every right to speak. As NRAI President, I strongly condemn this," Raninder said.
Bindra also got the backing of tennis star Mahesh Bhupathi, who is also campaigning for the ouster of tainted officials from the IOA.
"The 140 character limit on Twitter doesn't really help with all I want to say about the IOA attacking @Abhinav_Bindra and his family but..I promise you @Abhinav_Bindra you have all the support you need and more. Are are and will always remain India's Golden boy!!" tweeted Bhupathi.
Bindra has been outspoken in his criticism of IOA officials in the wake of the IOC suspension due to which Indian athletes are being denied the opportunity to compete under the national flag.
"Ethics is one of the main reasons for our suspension. Unless we get that right, we are not going to get back in. Why is that so difficult to understand?" Bindra has stated.
"People have to put their own interests aside. They have to look beyond their personal interests. They have to see the bigger picture," he added.
Meanwhile Chautala refused to budge from his stand and reiterated that IOC's chargesheet clause is not acceptable to the Indian Olympic Association as it cannot go beyond the law of the land.
"We can't go beyond the constitution, we can't go beyond the law of our land. If anybody says we should accept something which does not fall within the parameters of the constitution, that will not be appropriate. We want solution and not dispute," Chautala, younger son of former Haryana Chief Minister O P Chautala, said.