Veteran tennis star Leander Paes has said unity in the Indian Davis Cup team was improving, and the camaraderie among players will be better when they will face tougher challengers in the 2014 Davis Cup campaign.
Paes and Sanam Singh won Saturday's double rubber to seal the tie against Indonesia.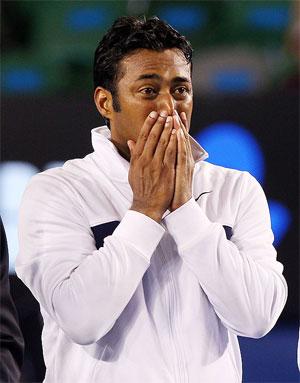 "The atmosphere in the team was phenomenal. I still think the camaraderie will keep getting better as we get into tougher ties at the World Group playoffs, quarter-finals and semi-finals. Don't forget our dream is to win a Davis Cup. That is what we really started playing for," Paes, who played his 50th Davis Cup tie, said.
Paes said the Indian tennis has gone through a lot in last year-and-a-half and it would probably take about another year before things could calmed down.
"For anybody, at the end of the day the game is bigger than all of us. At the end of the day, the country is more important than all of us. So it is our responsibility as much as we have the freedom of speech to do what we want. It is our responsibility to go and play for the country and play for each other," he said.
Paes said he won't be there for a long time and it is up to the young turks to have the Davis Cup Trophy, saying there was not much difference between the present team and the 1993 team, which reached the semis.
"I think it was just a matter of unity that was there back in 1993 and the unity that is coming back now. That is one of the things that the leaders of this team really have to do. They have to bring the team together," he said.
Paes said India never had two guys in top 50s or 100s to really boast of, but the team has always fought well.
"I think this team has got it. At the end of day it is about unity; it is about playing the best team that can win. It is not about East, South, North and West, or that matter my friend and dad, it is about the best Indian team possible to win. If I am not best I need to sit out and this applies to all of us," Paes said.
Praising Sanam, Paes said if his transition from baseline game to net gets better, there is no reason he cannot be a phenomenal player.
"He also creates a lovely atmosphere on the court. Moreover Sanam's return is very good which is his strength."
Talking further about Sanam's game, Paes said his partner's backhand is better than his forehand and he likes to go on the backhand side on his serve which is unusual, but he seems to pull it off well.
Replying to a query, Paes said when a player is on a roll he should dig it even deeper.
"When you are on a roll stay on what you are working on. That something Som does really well. If he catches you by a collar and got you down he literally puts you away and that is what professionals have to do," he said.
Non-playing captain S P Misra said he wil play Sanam in the first match instead of Somdev.