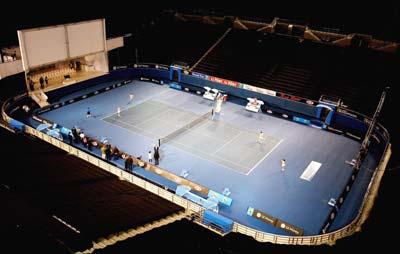 A spectacular blue plexicushion centre court at Rod Laver Arena was the centrepiece of the Australian Open 2008 launch in Melbourne on Tuesday.
'Where the world comes to play' is the message of Australian Open 2008, and 500 of the world's top players will compete next year on a new surface and trademarked 'Australian Open True Blue' court colour.
Tournament Director Craig Tiley said the move was part of a major push to create the best possible playing conditions for players and fans alike.
"The blue court looks better, it will be easier for everyone to see the ball and the vibrancy of the colour just lifts the entire venue," Tiley explained. "It is fresh and contemporary."
The decision on the colour followed months of testing. Several options were trialled, with tennis officials eventually settling on two tones of blue, a darker tone for the court itself, surrounded by a lighter tone.
"The initial reaction from the players, from Roger Federer down, has been nothing but positive," Tiley said, pointing out that player consultation had been a crucial aspect of the development of the new courts.
The announcement marks the most radical change to the tournament since it moved from grass at Kooyong to Rebound Ace at Melbourne Park 20 years ago.
The first Grand Slam tournament of 2008, staged from January 14 to27, will offer US $18.3 million in prize money, with the men's and women's singles winners each collecting US $1.22m--seven per cent up on last year.
"As the biggest sporting event in the world in January, we want to set world-class benchmarks for the tournament's look, feel and function," Tennis Australia's Chief Executive Officer, Steve Wood, said. "Earlier this year we launched our contemporised Australian Open logo and the change of the on-court colour scheme is a natural progression of this.
"We want players, fans and viewers to have the best tennis experience of the year."
Tennis officials also unveiled plans to further entrench the January event as the Grand Slam of the Asia-Pacific.
The biggest initiative will be a live site in Shanghai, which is expected to attract up to one-million people during the tournament.
Australian Open 2008 will also have a designated Asian court which, where possible, will host matches of special significance to the region.
New broadcast deals signed in Asia and elsewhere in the world are expected to push the Australian Open's potential 2008 viewing audience close to 1.9 billion.
"We have always had strong viewer and internet interest throughout Asia. The broadcasting deals we have signed this year are a reflection of that and an expectation that the interest is only going to grow," Wood explained.
First two Australian Open wildcard recipients are Denis Istomin and Iroda Tulyaganova, both of Uzbekistan, as the winners of the Asian Championships.