The former British rower and five times gold medalist Sir Steve Redgrave said on Tuesday that India has the potential to nurture Olympic rowers, who can also be medals contenders.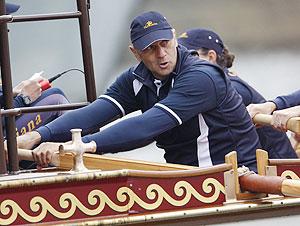 Speaking at the inauguration of his first rowing academy at Lavasa, Pune, Redgrave said, "India is growing for quite some time now. There are players who have proved their mettle at the Asian Games and other events. The talent can be nurtured to bring Olympic-quality rowers."
Redgrave's academy was announced around two years ago but it could not take off as Lavasa was served a notice to stop all works. But subsequently work restarted on the project.
He offered tips to budding rowers and cadets from College of Military Engineering. The coaching clinic was the first in a series of activities planned as a build-up to the opening of a full-fledged training facility.
Explaining his secret of success, he said, "I am sorry to say there is no secret. It was pure hard work and plus I was lucky. The secret, if it was, was that it was passion, enjoyment and excitement."
Speaking about his recovery from diabetes, which threatened to hamper his career during Sydney Olympics, he said, "I am still coping with it. I keep the glucometer in my pocket and always monitor my sugar levels. Although, controlling diabetes seemed easier during rowing days than now."
Image: Former Olympic rower Steve Redgrave
Photograph: Darren Staples - WPA Pool/Getty Images