Ravi Shastri, India's former cricket captain and manager, was lauded by the crowd present during the Olympic torch relay in Muscat on Monday.
"Ravi Shastri got the biggest cheer as he did the last lap on the corniche before they took a break," according to Sunil Vaidya, a Muscat-based senior journalist.
 Olympic torch cruises in Argentina
"Ravi Shastri told Gulf News: 'It was an unbelievable experience, I had goosebumps.' He was so impressed by the response from the crowd on either side of the route that he refused to board the bus after handing over the torch and continued walking and shook hands with people for another 400 metres," Vaidya added.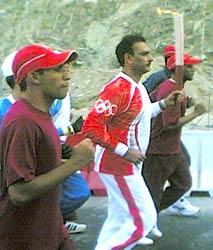 "Oman is a beautiful country and Muscat is one of the world's cleanest cities and it is an honour to bring the flame here," said Liu Jin Min while handing over the 2008 Beijing Olympics torch to Sayid Muttasim Hamood Al Said while the Royal Oman Police Band played 'Beat the Retreat.'
According to Vaidya, "A large number of Chinese expatriates and groups of school children greeted the flame as Sayid Shehab Bin Tariq, advisor to His Majesty Sultan Qaboos Bin Said, took off on the relay run in Muscat."
The Chinese immigrants living in Muscat were given a special leave to participate in the event. Around 2000 Chinese expatriates were present for the torch relay.
A Chinese working with Huawei Technology said, "Finally, we will have a happy torch relay in Oman."
Three Chinese security personnel ran along with the torch-bearers in blue-and-white tracksuits.
The torch-bearers included three women - Habiba Al Hinai (volleyball player), Fatma Al Nabhani (tennis player) and Rahma Al Habsi (wheelchair athlete). The torch travelled around 20 kms.
Photograph: Ketan Mehta