Forget the painted smiles and the sequin-studded swimsuits.
Olympic synchronised swimming champions will tell you it's long years of dedication and endless hours in the pool and the gym which bring the reward of gold medals.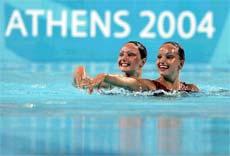 World champions Anastasia Davydova and Anastasia Ermakova of Russia basked briefly in the glory of newly crowned Olympic duet champions on Wednesday before looking ahead to the quest for more gold in the team event, beginning on Thursday.
"We've been preparing for this for 15 years," Davydova said. "We're both 21. Imagine what a big chunk out of our lives that is. It is a great joy to have won."
Ermakova said: "For both of us it hasn't yet sunk in that we're the gold medallists. Partly it's because of all those long years of preparation and then the performance is so short it's over in a flash.
"The feeling is happiness and satisfaction that all those long years have been justified and that we've justified the hopes of our coaches and families and everybody who put their trust in us."
Davydova, handed her mobile phone at a media conference after their victory, exclaimed: "Twenty-two missed calls."
But
there is no time for celebration as the team event starts next day. "A medal in the team event is just as precious as a medal in the duet," she said.
"We've been together for six years, including two years as juniors. As for how much we practise every day, we do eight hours in the pool and then another 1-1/2 or two hours in the gym.
"We intend to carry on until Beijing (2008 Olympics) at least and, if our health holds out, then we hope another four years of giving pleasure to our fans."
Ermakova said: "Every year we train harder because we have to have a programme that is more complex and faster, that has longer sections leading one into the other."
Davydova said the music to their final free routine, which netted perfect 10s from all five judges for artistic impression and three for technical merit, was chosen by their coach from the ballet Don Quixote.
"Last year we had a very serious programme with the more tragic music of a film called Deep Blue Sea," Davydova said, referring to the one with which they won the world title.
"We decided maybe that was a bit too heavy for the Olympic audience, so this year we decided we weren't going to put the fear God into them and we'd give them something brighter and more interesting."