Novak Djokovic's 37-match winning streak since the start of the year is already more impressive than the record 42 consecutive wins posted by John McEnroe in 1984, the American said on Tuesday.
World number two Djokovic has enjoyed complete domination so far this year by winning seven titles, including the Australian Open, four Masters Series events and ending world number one Rafa Nadal's supremacy on clay.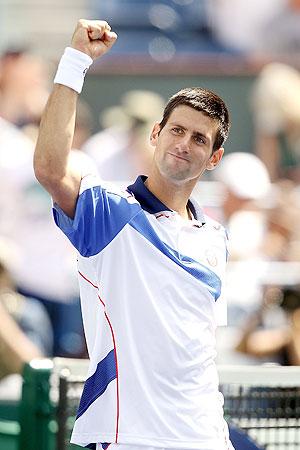 Should the Serbian reach the final of next week's French Open, he will edge ahead of McEnroe's 1984 streak, which was ended in the final at Roland Garros by arch rival Ivan Lendl.
"For me personally it brings back memories of '84," former world number one and seven-times grand slam champion McEnroe told reporters in a conference call on Tuesday.
"I'm quite excited at the timing of this because he could break my record at the French Open. I've followed his progress and to put it mildly it's been quite amazing to see how much confidence he is playing with.
"Records are made to be broken but at the same time now there is more competition, more athleticism, and deeper fields and more depth in the sport so his record is even more impressive than mine.
"Also in '84 the Aussie Open was was played at the end of the year so I hadn't played a major when I put that run together. My first major was the French where the streak was broken.
"It's impressive given he came in number three and to dominate Federer and Nadal the way he has, to see what he has done, it's a little surprising."
Djokovic outclasssed Nadal for the second week in succession to win the Rome Masters on Sunday, having also beaten the Spanish claycourt king in Madrid the week before.
The Serb, whose total streak is 39 when taking into account his two wins in the Davis Cup final at the end of 2010, has also beaten former dominant force Roger Federer three times already this year and stands on the brink of taking over as the world number one from Nadal.
However, McEnroe, who is playing on the Champions Tour which culminates in the Aegon Masters at London's Royal Albert Hall later this year, has a word of warning for Djokovic.
"Rafa is certainly tougher to beat in a best of five match," the American great said. "Going back to '84, I beat Lendl twice on clay going into the French then got up two sets and lost in five. Certainly Novak has to be careful because Nadal fights right to the end."