Formula One supremo Bernie Ecclestone on Thursday gave a thumbs up to the preparations for the inaugural Indian Grand Prix on October 30 but said that the organisers need to put in extra effort to generate interest for the race in the cricket-crazy nation.
"F1 is new to India. It would take efforts to generate interest. We will never catch cricket but we can get close to...perhpas with extra effort," Ecclestone, the Formula One Group CEO, said.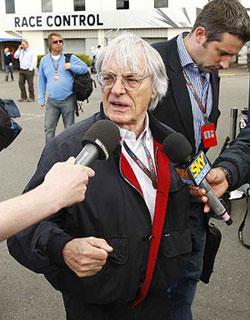 Ecclestone, the 82-year-old British sports entrepreneur, was pleased with the pace of work at the Budh International Circuit, the venue for the race.
"It will be one of the nicest circuit and will complete in time. People are there, checking everything on a daily basis. It will be in good shape," he said.
Asked whether F1 needs India or India needs F1, Ecclestone replied, "India is one of the top 5 countries, it's a major part of the world and we wanted a championship here. When I came here, I was pleased (with what I saw). Things will be fine. In the end we will do good things for India."
He also said that 30 per cent of the total spectators will come from abroad, especially Europe.
Sanjay Kapoor, CEO - India and South Asia, Bharti Airtel, said there was a lot of merit in having an association with the Formula One.
However, he did not give a direct answer when asked if the association with F1 was the reason behind their decision to pull out as sponsors of the Champions League Twenty20 tournament.
"You take decisions keeping in mind the brand. We keep balancing the portfolios," Kapoor said.