If Dwyane Wade had to pick a game to sit out with a bruised right knee, this was the one.
A mismatch on paper between the teams with the NBA's best record -- the Miami Heat -- and worst record -- the Charlotte Bobcats -- was made a little closer with the absence of Wade.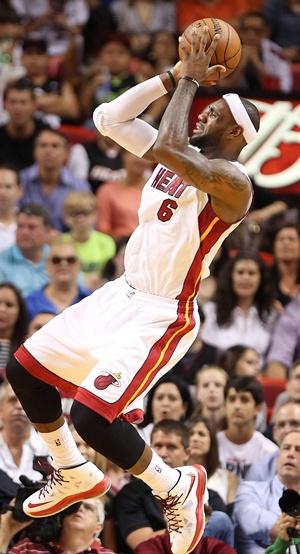 But thanks to LeBron James, Miami had more than enough to subdue the Bobcats 109-77 on Sunday night to extend the second-longest winning streak in NBA history to 26 games.
James had 32 points, 10 assists and eight rebounds to keep the Heat on track in its chase of the 1971-72 Los Angeles Lakers' record of 33 consecutive wins.
But while Wade sat out the game, he did play a role. Donning a white spots coat, Wade took the television microphone and interviewed James after the game.
"What does it say about this team, when you have a superstar out and the rest of the guys step up?" Wade asked James, who responded with a serious face.
"When you have a superstar like 'WOW' (Wade) out, Norris Cole gave us a big boost, Mike Miller hit a couple of threes to start the game," James said. "When you have a superstar Hall of Famer out, everyone else needs to step up."
Heat coach Erik Spoelstra said he doesn't mind his players having fun.
"They have personalities, big, infectious personalities," Spoelstra said.
"They are fun to be around, and they don't mind coming to work. But the point is, when it's time to go to work, go to work. It's not clown-around time."
As the Heat continues its pursuit of history, Spoelstra is hoping his team gets Wade back soon.
"Hopefully he will get some treatment and feel better (Monday). He got hit in the knee a few games ago and then in the Celtics game he re-aggravated it when he collided knees with someone.
"It's just sore and bruised. He's been playing through it, but it hasn't been getting better."
Photograph: Marc Serota/Getty Images