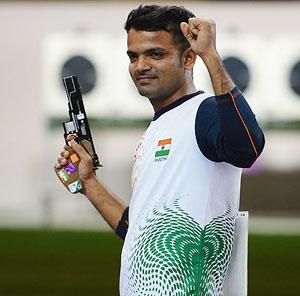 London Olympics silver medalist shooter Vijay Kumar of Army shot gold in men's 25m rapid fire pistol event at the 57th National Shooting Championship in New Delhi on Saturday.
Man Singh of Punjab captured the gold in the men's skeet event while Andhra Pradesh shooter Rashmi Rathore won the yellow metal in women's skeet event at Dr Karni Singh Shooting Ranges in New Delhi.
Vijay bagged the gold with a fantastic score of 30 hits in the final round while Akshay Suhas of Maharashtra won the silver with 28 hits, followed by Army's Pemba Tamang who bagged the bronze with 22 hits.
Delhi's Jaspal Rana was on the fourth place with 13 hits and a qualification score of 559.
Vijay, Suhas and Pemba shot 559, 568 and 580 respectively in the qualification round.
"I am regularly participating in different competitions to improve and maintain my performance," Vijay said after his event.
In skeet men's event, Man Singh of Punjab sealed the gold while Chhattisgarh's Arozepal Sandhu won silver and Punjab's Shreyan Kapur claimed bronze in the final.
Rashmi Rathore of Andhra Pradesh won the gold medal in women's skeet shooting, while the silver went to Aarti singh of Air India and the bronze to Samiya Sheikh of Chhattisgarh in the final round.
Image: Vijay Kumar