'My hip felt pretty good, not perfect yet but it's going in the right direction'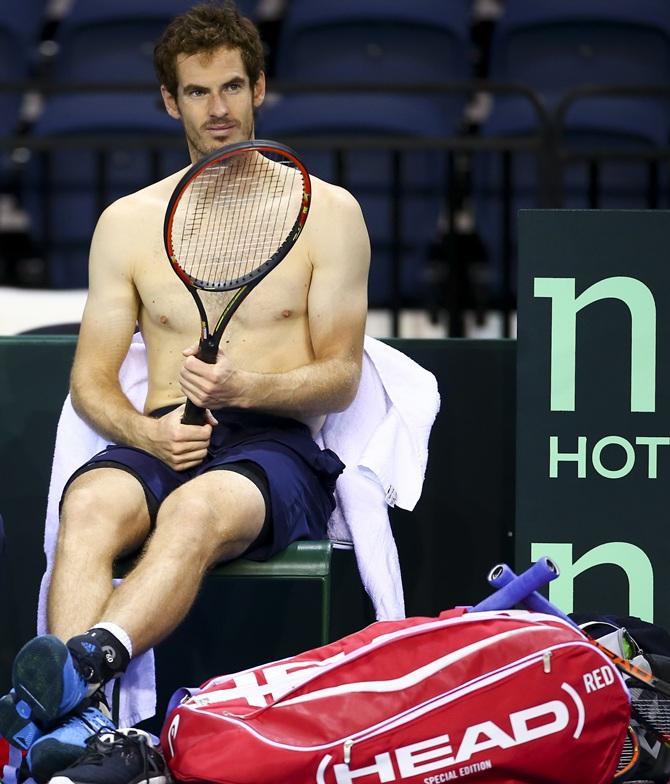 IMAGE: Andy Murray of Great Britain, right, sits during a practice session. Photograph: Jordan Mansfield/Getty Images for LTA.
Former world number one Andy Murray is targeting a return to competitive tennis at the Brisbane International in January in the lead-up to the Australian Open.
The 30-year-old Scot has been sidelined with a hip problem since Wimbledon but returned to the court for a charity event in Glasgow, losing a three-set match to a kilt-wearing Roger Federer on Tuesday.
"My hip felt pretty good, not perfect yet but it's going in the right direction," Murray said after the relaxed one-hour, 40-minute hit with Federer.
"I've got eight weeks until my first tournament of next year and hopefully I'll be there."
The Dec. 31-Jan. 7 Brisbane International, which will feature world number one Rafa Nadal among other top players, is a key warm-up to the year's first grand slam, which starts at Melbourne Park a week later.
Murray, whose ranking has slipped to 16, said he planned to do his usual pre-season training bloc in Miami before arriving in Australia early.
"Obviously coming into the beginning of the New Year I will be at a bit of a disadvantage because I have not played matches for a long time," he told British media.
"So if I can go there a little bit earlier to get used to the conditions, a bit sooner than some of the other players, that might help level it up a little bit for me."
Caution is the watchword for the Scot, who admitted he had erred in trying to play the US Open in August rather than resting his troublesome hip.
He ended up pulling out two days before the tournament.
"I made probably a bit of a mistake trying to get ready for the US Open but it was the last major of the year and I wanted to give it a go," he said. "Now I've had time to give my body the rest and recovery it needs."
The three-times grand slam champion felt confident, however, that he would be able to get back to his best tennis.
"I believe I will," he said.
"You never know when you're coming back from any injury, but that's what I'm working towards, for sure.
"When I get back on the court next year and start playing again it might not come immediately at the beginning of the year.
"There is a difference between that 75 or 80 per cent practice and going flat out at 100 per cent for two-and-a-half or three hours on the match court.
"Until I do that I can't say for certain, but I think I'll be able to come back just fine."
Federer advises Murray not to rush back too quickly
Roger Federer believes Andy Murray should follow his lead by ensuring he does not rush back to competitive action too quickly following the Scot's injury-ruined season.
The Swiss 19-time Grand Slam champion had encouraging words for his friend and rival while helping Murray start his comeback gently by playing him in a charity match in Glasgow on Tuesday.
Former world number one Murray, who has been sidelined with a hip injury since Wimbledon, is targeting a return in the New Year with a view to competing at the Australian Open.
Federer, who was in a similar position last year when he missed the second half of the season through injury, took time out to completely recover and was rewarded with a spectacular return in 2017 featuring two grand slam triumphs.
Before beating Murray in the knockabout exhibition match, Federer told the three-time grand slam winner: "My best advice is just to get fit again. Take your time, however long it takes.
"When you come back you want to be at 100 per cent, otherwise the problem is you feel you just can't beat the best at the big tournaments, so it's wise and worthwhile to take the extra week, extra month maybe.
"I'm sure Andy has a lot of years left so there shouldn't be a hurry but as a professional athlete, you always want to come back as quickly as possible and you need to have goals but sometimes they need to be postponed."
It is extraordinary how the pair's fortunes have changed in 12 months, but the experience of 36-year-old Federer can act as an inspiration to a player six years his junior.
This time last year, Murray had just achieved his ambition of becoming world number one while questions were being asked about Federer's future after his injury-decimated campaign.
Yet the Swiss returned to win the Australian Open and Wimbledon, shoot back up to number two in the world and play some of the best tennis of his garlanded career while injury-hit Murray's form and confidence dipped.
From number one, Murray has plummeted to 16th in the rankings, his lowest position for nine years but Federer is confident his rival will climb back to the top again.