Andy Murray fought off Serbia's Novak Djokovic to win an epic US Open final 7-6, 7-5, 2-6, 3-6, 6-2 on Monday and become the first British man in 76 years to win a Grand Slam singles title.
The Scotsman, beaten in his four previous Grand Slam finals, made it fifth time lucky with a nerve-jangling victory at a windy Arthur Ashe stadium, where the players had to battle the elements as much as each other.
- Serena underlines her greatness
With both struggling to control the ball in the gusting winds and battling exhaustion after the equal-longest final ever played at the US Open, the match became a test of courage and stamina and it was Murray who handled the decisive moments better.
After losing the first two sets, Djokovic suddenly raised his game, winning the next two to force a deciding fifth set and seize the momentum as Murray started to wilt.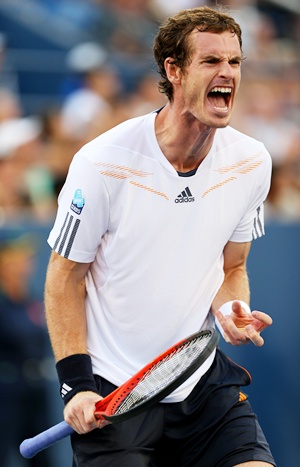 But the Olympic champion regained his composure when it really mattered, jumping to a 3-0 lead in the final set with two service breaks then hanging on to seal victory.
It's been 76 years since a British man last won a Grand Slam title, providing a mixture of frustration and embarrassment to the country where modern tennis originated.
Entire generations have come and gone since Fred Perry won his last major at the 1936 US Open when tennis was played with wooden rackets and by men in long trousers.
Tim Henman offered a glimmer of hope that the barren run might end when he made six Grand Slam semi-finals between 1998 and 2004 before passing the baton to Murray.
Doubts about Murray's mental toughness began to emerge after he lost his first three Grand Slam finals (the 2008 US Open and the 2010 and 2011 Australian Opens) all in straight sets.
But he took a set off Roger Federer at Wimbledon this year and although he still lost, he emerged as a tougher player, beating Djokovic and Federer in successive matches to win the Olympic gold medal.
Murray hardly put a foot wrong at Flushing Meadows this past fortnight, dropping just three sets on his way to the final, raising expectations that he can finally breakthrough.
The triumph caps a glorious summer for Britain, in which cyclist Bradley Wiggins won the Tour de France and the host-nation won 29 gold medals at the London Olympics.