Italy's Sara Errani and Roberta Vinci won their second Grand Slam title of the year on Sunday when they beat the Czech pair Andrea Hlavackova and Lucie Hradecka 6-4, 6-2 at the US Open.
-Serena underlines her greatness with epic win
The number two seeds came through a tough opening set before running away with the second to add the US Open to the French Open title they won in June.
-Djokovic threatens Murray's Grand Slam dream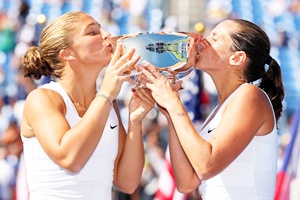 For Errani, it was the perfect pick-me-up after her defeat by Serena Williams in the semi-finals of the singles event.
"It is better to finish with a win," said Errani, who also reached the French Open singles final and who will go to the top of the doubles rankings on Monday, with Vinci rising to No. 2.
-Djokovic hits out at crammed US Open schedule
For Hlavackova and Hradecka, it was the third near-miss this summer, having lost to Serena and Venus Williams at Wimbledon and the Olympics.
"We should walk away from this tournament with a big smile," Hlavackova said.
Errani said becoming World No. 1 was a dream come true.
"We played an amazing year so this is very important for us," she said. "We played good from Australia, where we made the final, and we won Paris. Of course it's an amazing year. We hope to continue."
Photograph: Cameron Spencer/Getty Images