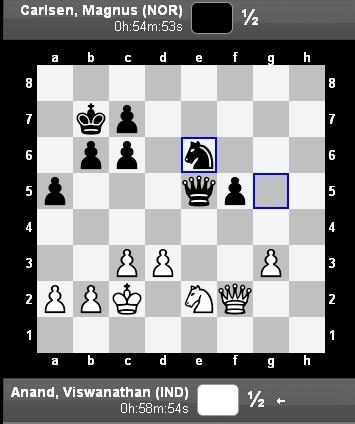 Defending champion Viswanathan Anand had to be content with a draw in the seventh game of the World Chess Championship in Chennai on Monday.
-World Chess: Anand relieved after two unpleasant games
-Anand draws Game 7; Carlsen stays two points ahead
With just five games to go in the 12-game match, Magnus Carlsen retained a two point lead. The scoreline now reads: 4.5-2.5 in favour of the Norwegian.
Following are the moves in the seventh round of the World Chess Championship match between Viswanathan Anand and Magnus Carlsen in Chennai on Monday with analysis:
1. e4 e5
2. Nf3 Nc6
3. Bb5 Nf6 (Ruy Lopez Berlin that has tormented Anand in the match so far comes back again. Anand goes for a different set up this time though).
4. d3 Bc5
5. Bxc6 (Anand has played this before so obviously Carlsen had something in mind) dxc6.
6. Nbd2 Bg4 (This is it. In the post game conference, both players agreed that after this move the game is likely to take a slow course only. Carlsen likes it that way if the games thus far are any indication).
7. h3 Bh5
8. Nf1 (White goes to collect the Bishop straight away. Another option was to push the king side pawns but it looks risky at the same time) Nd7.
9. Ng3 Bxf3 (A practical decision, Carlsen gives back the Bishop pair and retains a solid position. The Bishop retreat was not a good alternative as then Anand would have pushed his king rook pawn to cause some weaknesses).
10. Qxf3 g6 (Perfect defense. Carlsen neutralises the Knight on 'g3' that does not have an active square to go forward).
11. Be3 (Anand spent some time on this. White has to take some decisions here. The black Bishop is quite active but another set of exchanges doesnt help Anand's cause. The defending champion is two points behind) Qe7.
12. O-O-O O-O-O (Simple and pleasing. This was Carlsen's idea when he went for 'Bg4' early in the game. The black pieces are
harmoneously developed now, white seems to be pressing a little but its not much).
13. Ne2 (Anand decides to retreat the Knight to initiate a king side break) Rhe8.
14. Kb1 b6 (This move seems a little bit weakening but its part of a long drawn strategy by Carlsen. By putting the King on 'b7', the Norwegian ensures that his King remains out of bound and the 'c6' pawn is also well covered).
15. h4 Kb7
16. h5 (Not much for white to do. If he had tried the 'f4' break black was always in time to bring the Knight to 'e6'). Bxe3 (Another exchange. Carlsen is ready for a complete equality).
17. Qxe3 Nc5
18. hxg6 hxg6
19. g3 (White is trying to push the King side pawns now. Anand thought he could have pushed black a little but it did not happen) a5.
20. Rh7 (This move invites the swap of rooks. An indication that white is ready to go for simplifications) Rh8.
21. Rdh1 Rxh7.
22. Rxh7 Qf6 (A good move and Carlsen is now ready to control the only open file in the game).
23. f4 Rh8
24. Rxh8 Qxh8
25. fxe5 Qxe5
26. Qf3 f5 (Another pawn exchange and now its just a dead draw).
27. exf5 gxf5
28. c3 Ne6
29. Kc2 Ng5 (Carlsen invites repetition and Anand obliges).
30. Qf2 Ne6
31. Qf3 Ng5
32. Qf2 Ne6 (Draw) 1/2-1/2.
Photograph: FIDE World Chess Championship