Manchester United manager Alex Ferguson and centre back Nemanja Vidic were named Barclays manager and player of the year on Friday.
United were last week crowned league champions for a record 19th time, and 12th under Ferguson, who will hope to complete a memorable season by beating Barcelona in the Champions League final at Wembley on May 28.
The Scot has won the manager of year award nine times.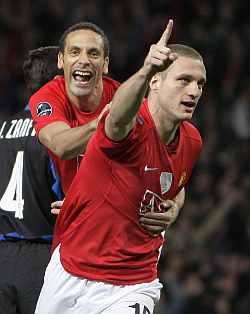 Serbia defender Vidic has been consistently superb at the heart of United's defence and his winning of the award from the league's sponsors for the second time will be some consolation after he missed out to West Ham United's Scott Parker in the Footballer of the Year award voted by journalists.
Tottenham Hotspur winger Gareth Bale won the players' association player of the year award.
Vidic was also voted United's player of the year by the club's players and also by their fans.
The Barclays award is decided by representatives of football's governing bodies, the media and fans.