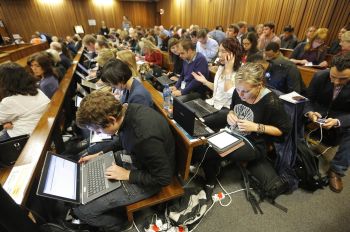 Media will be banned from covering the Oscar Pistorius murder case in order to protect the dignity and sensitivities of the friends and relatives of deceased Reeva Steenkamp.
Before the pathologist Professor Gert Saayman gave his evidence, he requested that it not be broadcast.
Saayman added that he is a healthcare practitioner, a medical doctor, and was bound by certain ethical rules.
He added that under the terms of the Health Professions Act, he has chosen to indicate to the court that he wouldn't be comfortable with a live and contemporaneous stream of evidence, due to the very nature thereof, the report said.
According to news24, he gave three reasons and four medical-ethical considerations to his reason for the requested.
According to medical ethics, Saayman is bound by four considerations: the principle to do no harm, to try to do good, to do what he believes the client or patient would have wanted, and to consider distributive justice.
In philosophical terms, distributive justice is conceptualized as the perceived fairness of negotiated outcomes.
According to the report, Judge Thokozile Masipa has went much wider and banned all live updates, whether by broadcast or the electronic media were banned. Twitter and "blogging" were named specifically.
There was to be no blow-by-blow account of Saayman's testimony and no actual quotes of what he said. Paraphrasing was allowed, the report added.
Photograph: Kim Ludbrook/Pool/Reuters