Ferrari's Felipe Massa and former team mate Michael Schumacher completed a one-two finish in a kart race on Sunday in the Brazilian's first competitive event since his life-threatening accident in July.
Race organiser Massa, who suffered a serious head injury during qualifying at the Hungarian Grand Prix and missed the rest of the Formula One season, won Sunday's race ahead of record seven-times world champion Schumacher.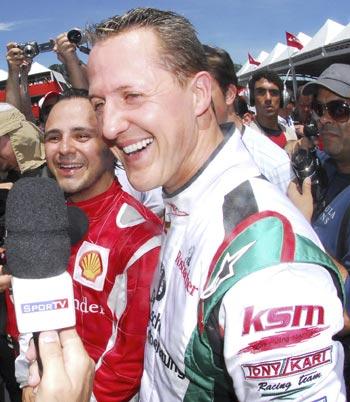 The German lifted the title in the International Challenge of Go-Kart Champions following a victory on Saturday. Massa, third on Saturday, was overall runner-up in the event held in Florianopolis in southern Brazil.
"It's fantastic to do a one-two with Felipe. It was like in the old days," Schumacher told reporters after the race in which other current and former F1 drivers took part, including Rubens Barrichello and Force India's Italian Vitantonio Liuzzi.
The 28-year-old Massa will return to Formula One for Ferrari next season alongside Spain's Fernando Alonso.
MotoGP champion Rossi finishes second at Monza
Meanwhile, MotoGP world champion Valentino Rossi displayed his passion for four wheels by finishing second in the Monza rally in Italy on Sunday.
The 30-year-old, who won the non-world championship event in 2006 and 2007, drove well in his Ford Focus but was beaten by last year's champion Rinaldo Capello in a Citroen.
Rossi, third in his class in a touring car race last weekend, has considered moving into rallying when his Yamaha MotoGP contract runs out at the end of next year while he is poised to again test a Ferrari Formula One car in January.