Hendrik Ramaala of South Africa overcame a strong field, heat and humidity to win the Standard Chartered Mumbai International Marathon on Sunday.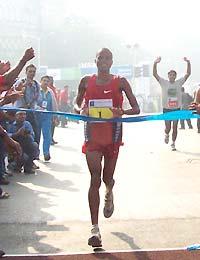 The two-time Olympian and world's sixth-ranked distance runner paced himself well in a fast race to cover the 42.195 kms course in 2 hours 15 minutes and 47 seconds.
Julius Sugut of Kenya (2:16.36 ) and Lucien Tomobo of Tanzania (2:16:50) finished second and third respectively in an African sweep.
"I was expecting to run around 2: 12 [two hours, 12 minutes] today but the heat and the crowd made it difficult towards the end. Anyway I am happy. I can't complain," said a smiling Ramaala after the race.
Runners of the Services Sports Control Board cornered the limelight among the Indian runners, winning the first five places.
K C Ramu finished first among them. He was followed by H A Chinappa, Shivdan Singh, Nathuram and Ram Singh in that order.
Violetta Uryga of Poland was the best woman runner in the full marathon, winning a start to finish affair in 2:47.53 seconds.
Judith Nagy of Hungary, with a timing of 2:49.50 seconds, finished second while Natalia Salushka Gilufumo of Belarus, who clocked 2:50.24 seconds, was third.
Indresh Dheeraj emerged the best Indian woman runner in the full marathon while Sarabjit Kaur was best in the half marathon.
The 31-year-old Ramaala, who twice won silver medals at the IAAF World half marathon championships, came up with a class act. He allowed Kenyan pace-setter Simon Tanui set a hot pace and lead a pack of 15 runners right through the first lap from Azad Maidan to Worli. But once the Kenyan drifted away having finished his job, the South African took over from the start of the second lap and never looked back.
With around six kms to go, he stepped up the pace near the Pedder Road flyover in South Mumbai and raced through, finishing with enough to spare in his wind box.
Despite being hampered at the closing stages by the runners whom he had lapped and crowd, he did well to maintain a 15 metres lead over Sugut and Tomobo, who were both forced to battle it out for the second place.
"I could have done better. My best timing is 2:08.58, which I clocked at the London Marathon last year. Here, in Mumbai, it was a bit hot, particularly towards the end of the race. But I am happy I won the race as the climate here is very similar to what we will experience at Athens, where I am targetting the Olympic gold."
Commenting on the course, he said: "It was very humid and hot and the hilly climb made it difficult. As the heat was getting worse, I let the pacemaker do most of the front running, but once I climbed up the hill I decided to increase my pace and test the others as I noticed they were tiring."
Told that in winning he justified the organisers' decision to give him the No.1 chest sticker, Ramaala shot back, "Who knows who and why they gave it to me. Yes, I'm first."
Second-placed Sugut, who finished a good minute after the winner, paid tribute to Ramaala. "He was just class. There was no way we could catch up with him once he made his move. But I am happy. I had a good race," he said.
Results:
(Full marathon) Men: 1. Hendrick Ramaala (South Africa- 2:15.47), 2. Julius Sugut (Kenya-2:16.36), 3. Luica Tomobo (Tanzania-2:16.50).
Women: 1. Violletta Uryga (Poland-2:47.53), 2. Judith Nagy (Hungary-2:49.50), 3. Natalia Salushke Belarus-2:50.24).
Half marathon: 1. Raj Kumar (SSCB), 2. Ajit Singh (SSCB), 3. S Seetharam (SSCB).
Photograph: JEWELLA MIRANDA