Manchester United appears to be bracing itself for losing Bulgarian star Dimitar Berbatov to either Valencia or Paris Saint-Germain.
According to the Daily Express, Berbatov is at the centre of a tug-of-war between Valencia and Paris Saint-Germain.
Both clubs are trying to tempt the out-of-form Manchester United striker away from Old Trafford in January.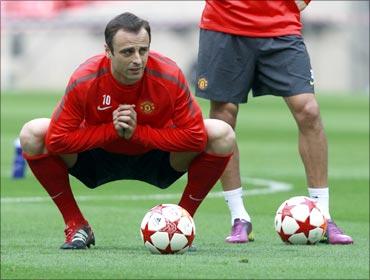 The Bulgarian has made just three Premier League appearances this season.
United's 30 million pound record signing is out of contract next summer.
Meanwhile, Coach Sir Alex Ferguson insists he does not want Manchester United to be the Premier League's entertainers.
He says he would be more than happy with boring 1-0 wins for the rest of the season.
United have scored 24 goals in their seven league games so far.
But Fergie is more concerned about the seven league goals conceded. He said: "Let me tell you, I'd be quite happy winning every game 1-0.
The Daily Express quoted him, as saying: "We're playing a wee bit open, that's for sure, both in the league and in European games. We are very attack minded at the moment, but we have to be tight at the back.
He added: "The defenders we have been using this season are young, remember, so they are going to get better as the campaign goes on."