India's first sports and fitness mall, Okini-Sports Town, opened its doors to customers in Mumbai on Saturday.
The three floored theme mall known as Okini-Sports Town, enjoys vantage position on the Link Road, Malad, is spread over 18000 square feet and has an attractive glass frontage along with interiors designed to international standards.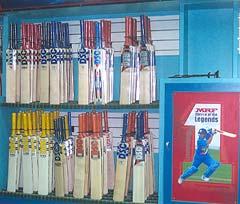 It will have the complete gamut of sports goods, sportswear, fitness products, sports trophies, mementos, cups, medals and corporate gifts.
Almost one third of the mall, converting to a full floor has been earmarked for sports goods which includes branded bats, balls, gloves, rackets  for badminton, tennis etc. The mall stocks a full range of sports goods with international brands like Reebok, Nike, Adidas, SG Yonex, Silver, Prince, Butterfly and Indian top brands like MR, Nivia, Cosco, Vector, BDM, Precise on the first floor along with full-size cutouts of famous sports personalities including Sania Mirza and Sachin Tendulkar.
Laying emphasis and thrust on the benefits of good health, the mall has devoted the second floor to fitness lovers and has installed treadmills along with other gymnasium equipment of reputed international brands including Tuntori and American Motion Fitness.
On the other hand, with the intention of promoting both sports and health together, the mall has incorporated a modern facility for organizing regular day-long events for sports lovers and fitness enthusiasts.
The Sports Town has put up a giant screen along with a transparent platform that can display colourful event in to its true spirits. They can meet their international sports stars and carry with them a print or electronic record of their meeting in the form of life-size photographs or video CDs of happenings of the day.
The upper or third floor displays world class trophies which can be picked up for any kind of tournament. The other side of the floor has been kept open for conferencing, where customer can go and see their images.
The vision behind setting up such a speciality mall is to create a multi-layered retail platform with rich ambience for a quality ensemble of sports and fitness wares to provide the customer ultimate comfort of physical feel & quality comparison across the brands before making a highly satisfying purchase.