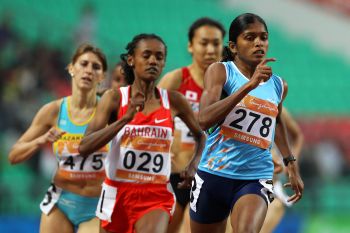 Legendary athlete P T Usha expressed hope that her student Tintu Luka would win gold medal in the 800 metres at the Commonwealth Games in Glasgow this year.
"Tintu is doing very well. We are trying to get her more outside exposure. For her, this year is very important. I want her to time under 1 min 59 seconds because last time at the CWG, she didn't do well. This year she should get the gold and not just any medal as she is in a good form," Usha told reporters.
The CWG will be held in Glasgow, Scotland from July 21 to August 4, while the Asian Games are scheduled in Incheon, South Korea from September 28 to October 5.
The 49-year old said she has identified a few events in Europe for Tintu to compete.
"I have selected some competition from May onwards in Europe. Qualifying for Olympics and world athletics, it is not so easy. Running with Indian athletes, you cannot qualify. She got only two races last year, how she will be able to qualify?
"There is no competition at all. We are trying to send her outside the country and at the same time Jessy Joseph is also doing very well, so she will also give good competition to Tintu," Usha said.
The former 'Sprint Queen' was hopeful that Indians would do well in athletics in prestigious international tournaments such as Asian Games and Commonwealth Games scheduled to be held this year.
"For Indian Athletics, this year is very important because the Asian Games, Commonwealth Games and World Cup is there. I hope the athletes would a better performance because the last time Olympics the performance was better. Two had come in finals and one had in 10th position and 800m the 11th position. I hope they do well," said Usha, who is a recipient of Padma Shri and Arjuna Award.
Usha further stated that her other pupil Jessy Joseph has been doing well and is trying to improve her timing in order to qualify for the Asian Games.
"Jessy is very young. Though she is only 17, we are trying her to qualify for the Asian Games also. Jessy is coming up very well. She is the only one who qualified for world junior and world youth also. The junior youth performance was 2:09 and if she had come to 2:06.
"This year, she is youth only, she is targeting 2:03. So if she does 2:03, she will be able to get medal in the youth world also," said Usha, who won 101 international medals in her career.
Image: Tintu Luka
Photograph: Mark Dadswell/Getty Images