The United States chose former Sudanese refugee Lopez Lomong to carry their flag at Friday's Olympic opening ceremony in a move that could embarrass Sudan and its ally China.
- Athletes who have swapped passports
The 1,500-metre runner, chosen by US Olympic team captains this week to lead them into the Games, is the epitome of the American Dream.
Born in Sudan, Lomong was abducted by soldiers one Sunday morning while singing hymns with his parents under the big tree that served as a church. He never saw them again.
He was imprisoned with other kidnapped boys destined to be trained as child soldiers but escaped "through a hole in the fence on a night with no moon".
"That's where my race started," he told a news conference on Friday. "We ran for three days and three nights."
Lomong was only six. Two older boys took care of him. They reached the Kenyan border and were taken in as refugees to a big camp where he was to spend the next 10 years.
- Ten great rivalries at Beijing
"We lived in a tent. We got one meal a day, late at night so it would last us. We played soccer during the day to keep our minds off food," he said.
Lomong fled on foot from rampaging government-sponsored Arab militias in southern Sudan in 1991, becoming separated from his parents.
His escape took place during the height of a civil war between Sudan's Muslim, Arab north and its Christian and animist south.
Along with thousands of similar children, known as "the Lost Boys of Sudan", he was eventually resettled in the United States and became a US citizen in July 2007.
"I'm here as an ambassador of my country and I will do everything I can to represent my country well," Lomong said.
"This is another amazing step for me in celebrating being an American.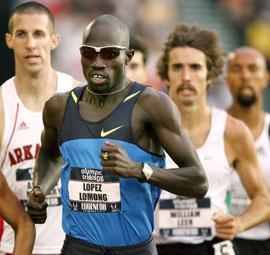 "I didn't know what the Olympics was," he said. But in 2000 he heard so much excited talk about it, he wanted to find out. With his pals he walked five miles to a house which had a black and white TV set.
"I had five shillings I had earned for watering a man's cow. It cost five shillings to get in the house to watch."
It was here that Lomong decided to become a track and field athlete. He watched US runner Michael Johnson winning gold in the 400 meters at the Sydney Olympic Games.
"I said to myself: Wow, he is fast. I want to run as fast as that guy and I want to wear that uniform."
He was invited along with other young refugees to write an essay competing for a chance to go to the United States, and he won. He flew into his new life at the age of 16.
His foster parents, Robert and Barbara Rogers, "had to teach me everything -- the cold water, the hot water, and how to put it in the middle". He was stunned by the "huge portions of food" and the careless way it was wasted.
"In camp we used to get chicken twice a year, Christmas and Easter. One chicken for 10 kids. We put it in boiling water with lots of salt and drank the soup. If you got a bit of chicken in yours, well, Merry Christmas..."
Lomong will be one of three foreign-born athletes representing the U.S. in the 1,500 meters.
World champion Bernard Lagat, who won Olympic silver and bronze in the event for Kenya, and Leonel Manzano, who grew up in Mexico, complete the lineup.
Lomong ducked questions from US reporters about China's support for the Sudanese government, the conflict and refugee crisis in its Darfur region, China's role in the country and the human rights record of the host country at home.
"I knew I'd make it one day," he said. "I'm here to inspire other kids."