When the referee raised Yoshie Ueno's hand to declare her winner in the first round of the 63kg judo category, her opponent Garima Chaudhary unwittingly became part of a dubious Indian record she would like to forget in a hurry.
The Meerut girl, who was floored in 81 seconds, is, thus far, the only Indian athlete who was in action for the shortest time in the 30th edition of the Games.
- London Olympics 2012 - Full coverage
It was always a tall-order for the World No 77 against a two-time World champion from Japan, but even Garima never expected that she would be floored even before a minute and a half of the contest was over.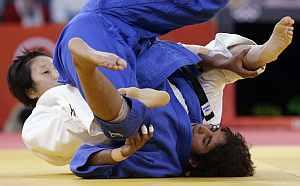 The youngster won't find it amusing that after spending a week at the Games Village, a mere one minute 21 seconds of participation was all she could show for at the world's biggest sports spectacle.
It was really heartbreaking for the Indian judoka. To be fair to her, the draw went totally against her.
For the record, Ueno has won back-to-back World Championships in 2009 and 2010 before losing in last edition's final.
Garima was unlucky to have bumped into such formidable opposition in the first round itself.
The referee stopped the contest in the 81st second as Ueno was awarded an 'Ippon' which, according to judo rules, means maximum points awarded for pinning an opponent with his or her back touching the mat for 25 seconds.
After Ueno pinned Garima down, the Japanese judoka was straightaway awarded 100 points. She had employed the Kuzure-kesa-gatame technique which paid dividends against the hapless Indian.
Ueno is bidding to emulate her elder sister Masai Ueno, who won the gold in 2004 and 2008 Olympics.
Image: Yoshie Ueno of Japan flips Gartima Chaudhary of India during the women's 63-kg judo competition.
Photo: Paul Sancya/AP