Indian boxing's pin-up boy Vijender Singh and Jai Bhagwan set the ring ablaze with dominating performances on their way to the pre-quarter-finals at the Olympics Games.
Beijing Games bronze medallist Vijender Singh (75kg) out-punched Kazakhstan's Danabek Sukhanov 14-10 in the middleweight category late Saturday night, before Bhagwan outclassed Andrique Allisop of Seychelles 18-8 in the lightweight (60kg) at the ExCel arena on Sunday afternoon.
- London Olympics 2012 - Complete coverage
Their passage to the next stage made up for Shiva Thapa's first-round exit.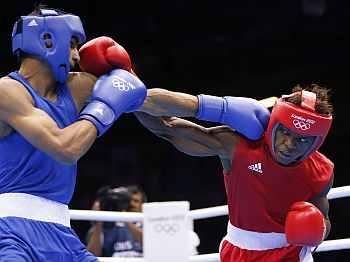 Touted as a serious medal contender, the 26-year-old Vijender was a trifle cautious in the first round as he did not go on attack mode, preferring to gauge his opponent's strategy, but opened up subsequently to win comfortably.
"I am delighted to make it through to the next round, he was a tough opponent and now it's on to the next challenge," said Vijender.
"I want to go home with a different coloured medal this time," he added.
Participating in his maiden Olympics at the age of 27, Bhagwan produced a dominating show to storm into the pre-quarter-finals.
He was in complete control of the bout from the onset and enjoyed a better reach because of his height; technically also, he was far superior.
Bhagwan was equally sound in defense as well as attack and took control over the proceedings with identical scorelines of 7-3 in the first two rounds.
Leading 14-6 in the third round, he adopted a cautious approach but never relaxed his grip over the bout, pocketing the decider 4-2.
Bhagwan will next face Gani Zhailauov of Kazakhstan while Vijender will take on Terrell Gausha of USA.
Photograph: Murad Sezer/Reuters