Roger Federer is one victory away from filling the last space in his creaking trophy cabinet after beating Argentine Juan Martin del Potro in a four hour 26 minute epic to reach the Olympic men's singles final at Wimbledon on Friday.
The 30-year-old Swiss, who added a 17th Grand Slam title to his collection last month on the same Centre Court, survived a record-breaking scrap to win 3-6, 7-6, 19-17 in the longest men's three-set match played in the professional era.
The third set alone took an astonishing 163 minutes with Federer, who served for the match at 10-9 but was broken to love, claiming victory when his exhausted opponent fired an attempted backhand pass into the net.
Federer won doubles gold in Beijing four years ago with Stanislas Wawrinka but had never previously reached an Olympics singles final.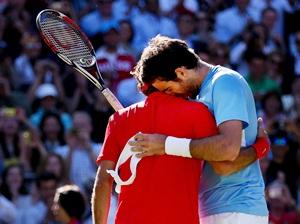 He will face Britain's Andy Murray, whom he beat to win a seventh Wimbledon singles title, on Sunday.
Andy Murray rode the wave of British euphoria to reach the men's singles final with victory over Novak Djokovic of Serbia.
The Scot, roared on by a vociferous Centre Court crowd, won 7-5, 7-5 to set up a repeat of last month's Wimbledon final against Swiss maestro Roger Federer.
"It was a big match obviously. Very tough from start to finish. Juan Martin did so well to hang in there," Federer, still looking fresh despite his exertions, said.
"I got lucky in the second set to get back and then in the third it was so tough. I don't think I have ever played as long a set in a best of three-set match.
"Obviously I feel bad and horrible for Juan Martin but he can be very proud. I had a sense though that it was something special and it was cool to be part of a match like that."
Del Potro, who was due back on court for a mixed doubles quarter-final with Gisela Dulko later, looked shattered as he talked to reporters after the match.
"It is tough to speak now, I feel sad, but Roger made a fantastic match, he is a good winner," Del Potro said.
"When you lose you can't see the good things. It hurts a lot to lose like that."
Federer struggled in the first set against the relentless power of Del Potro, who he lost to in the final of the 2009 US Open but has beaten consistently since.
Del Potro dominated the baseline exchanges to take the opening set in 36 minutes and he remained in charge during the opening games of the second set as Federer hung on.
With Argentine fans roaring their man on and cries of "Roger Roger" resounding around the court, Federer upped his game to win the second set tiebreaker.
No one could have imagined what was to follow though.
Serving second, Federer was always playing catch-up but the Swiss remained rock solid on serve, never once offering Del Potro a match point despite standing one game away from defeat on 12 occasions in the final set.
When he broke the Del Potro serve to lead 10-9 it seemed Federer had the match in his hand but the opportunity came and went in a flash as the match extended past the fours three minutes it took Spain's Rafa Nadal to beat Djokovic in the 2009 Madrid Masters semi-final.
At 17-17 Del Potro wavered again on serve to hand Federer a second chance.
Federer fluffed an easy volley on his first match point but kept the pressure on and roared his relief when Del Potro netted to finish the match.
Serena to face Sharapova in golden match
American Serena Williams continued her romp towards a first Olympic women's singles gold medal with a 6-1 6-2 thrashing of world number one Victoria Azarenka on Friday after Maria Sharapova won an all-Russian clash against Maria Kirilenko.
Williams, trying to complete her full set of major honours, needed just 63 minutes to destroy the outclassed Belarussian - making up for a long wait to get on Centre Court after Roger Federer's epic semi-final win against Juan Martin del Potro.
Russia's opening ceremony flag bearer Sharapova won 6-3, 6-3 to reach the Olympic final on her first Games appearance.
Azarenka and Kirilenko will now play off for a bronze medal.
Williams has been unstoppable on grass this summer.
First she claimed a fifth Wimbledon title to secure a 14th Grand Slam title. Now she is on the verge of an Olympics singles gold to go with the two she won in doubles with sister Venus.
The 30-year-old Williams, seeded four, has conceded only 16 games in five matches to reach the final.
Standing in her way in Saturday's final will be Sharapova, who is hoping to emulate fellow-Russian Elena Dementieva's feat in Beijing four years ago.
"Well it's incredible, not only to be part of this event and be an Olympian, but to put yourself in with an opportunity to go for gold. It's a really nice feeling," Sharapova told reporters.
"I've been really fortunate to win all the grand slams and obviously this is my first Olympics so I'm just thrilled to be in the finals."
Sharapova was made to fight by Kirilenko in the second set but claimed victory with a volleyed winner on her second match point before blowing kisses to the fans watching on Court One.
Image: Roger Federer (in red) of Switzerland is congratulated by Juan Martin Del Potro of Argentina after his epic 4-6, 7-6, 19-17 victory in the semi-final of the men's singles on Day 7 of the London Olympics, at Wimbledon.
Photograph: Clive Brunskill/Getty Images