Indian challenge in the individual archery recurve section is almost over with all archers save Deepika Kumari have crashed out of their respective events.
While Rahul Banerjee and Tarundeep Rai were eliminated in the second round of the men's recurve section, Jayanta Talukdar suffered a humiliating defeat in the opening round.
In the women's section Chekrovulo Dwuro's erratic performance saw her bow out in a shoot-off.
It will now be left to Deepika Kumari to at least give India's campaign in archery some semblance of respectability considering the woeful show that they have put up at the quadrennial extravaganza.
While Tarundeep went down fighting against South Korea's world No 2 Kim Bubmin. The score was 6-2 in favour of the South Korean. This was after Tarundeep defeated JC Evans of Korea in a shoot-off after being tied 5-5.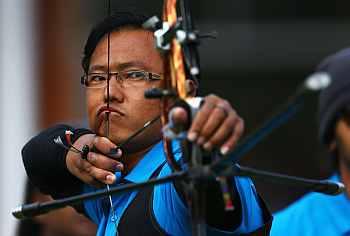 Rahul convincingly blanked Mongolia's Jantsan Gantugs 6-0 in the first round only to lose 3-7 to Rafael Dobrowlski of Poland in the second round.
Earlier, in the morning, Talukdar was no match for his American rival Jacob Wukie, who easily pocketed the encounter 6-0, while Swuro went down fighting to Jennifer Nichols of USA 6-5 in the one arrow shoot-off after the scores were tied at 5-5.
In individual events, which is decided on best of five sets (three arrows each), one who wins a set irrespective of the margin gets two points.
Swuro was leading 5-3 and could have clinched the issue but for the bout of nerves that made her fire the arrow in a wayward manner.
The Indian needed to hit a 10 in order to clinch the tie but the nervous archer could only manage a six as the score was tied at 5-5.
In the shoot-off, the American scored a nine, while Swuro could just about hit an eight.
Talukdar blamed the archers' poor performance on fever that they suffered just a few days before start of the Olympics.
"All of us -- me, Rahul Banerjee and Tarundeep Rai had a fever and became very weak. That's the main reason we shot badly in the ranking round. Then we ended up with a tough draw and have to face someone shooting really good, like Jacob," Talukdar said.
"In this match I just didn't start well or with any confidence. In the third end I got better and shot a good score of 28 but Jacob was just better. If you want to win you have to be confident," he added.
After her loss in the one arrow shoot-off in the 1/32 elimination round in the women's individual event, Chekrovolu Swuro said she had a "good windy experience".
"This is of course a good experience for me. It will help me face the next windy competition. Here the wind is all around, from left, then from right, I cannot judge it. Let's say it was a good windy experience," said the Nagamese archer.