The Olympic torch will share the same security as the Crown Jewels at the Tower of London on its first night in the capital on Friday before embarking on a week-long journey that will take in religious, political and royal landmarks.
A Royal Marine Commando will abseil from a Royal Navy helicopter into the grounds of the castle where the crown used for royal coronations is kept.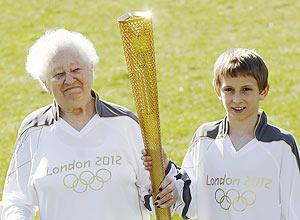 Significant numbers of people are expected to turn out to see the flame during its tour around London, the final stage in a nationwide journey that has attracted crowds of about nine million.
It will travel to the steps of Christopher Wren's 300-year-old domed St Paul's Cathedral, and the stage of Shakespeare's Globe theatre.
It will also appear in Downing Street, the official residence of the prime minister, and Buckingham Palace, the central London home of Queen Elizabeth.
On its final day, the relay will start at Hampton Court Palace, made famous by Henry VIII, and its winding hedge maze, before being carried down the River Thames on the royal barge Gloriana, used in Queen Elizabeth's celebrations last month to mark her 60 years' reign.
It will arrive at Tower Bridge at about midday and then reappear later in the evening at the Olympic Park where it will light the cauldron during the opening ceremony.
"Now the flame is on the home straight. Its arrival in London and journey through the capital marks the final countdown to what will be a great Games," said Olympics minister Hugh Robertson.