Top seed Karan Rastogi and No. 6 Yuki Bhambri, both of India, registered comfortable second round wins to ease into the quarter-finals of the CCI-ITF US$15,000 Men's Futures tennis tournament, at the Cricket Club of India, in Mumbai, on Wednesday.
Rastogi, ranked 284 in the ATP rankings, kicked off a rewarding day for the favourites when he beat unseeded Nicolas Reissig of Austria 6-1, 6-2 to set up a mouth-watering last-eight clash with Bhambri, who overcame compatriot Rupesh Roy 6-3, 6-4.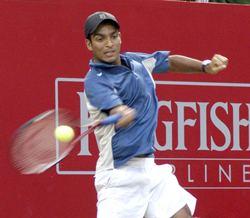 Unseeded Rohan Gajjar of India, who caused the first upset in the competition on Tuesday when he stunned fifth seed Gerald Melzer of Austria in the first round, rolled on as he beat compatriot and qualifier Divij Sharan 6-4, 6-4, while third seed Indian Vishnu Vardhan got past James Feaver of Great Britain 6-3, 6-4.
Fourth seed Gero Kretschmer of Germany joined the Indians in the quarter-finals after unseeded Ashutosh Singh of India retired midway through the third set while trailing 0-3 following stomach cramps. Singh won the opening set 7-5 before Kretschmer snatched the second at 6-4.
Among the Indians to lose in the second round was Sunil-Kumar Sipaeya, who went down to seventh seed Roko Karanustic of Croatia 1-6, 5-7.
 Results (second round): 1-Karan Rastogi (Ind) bt Nicolas Reissig (Austria) 6-1, 6-2; Rohan Gajjar (Ind) bt Divij Sharan (Ind) 6-4, 6-4; 6-Yuki Bhambri (Ind) bt Rupesh Roy (Ind) 6-3, 6-4; 4-Gero Kretschmer (Ger) bt Ashutosh Singh (Ind) 5-7, 6-4, 3-0 retd.; 7-Roko Karanustic (Croatia) bt Sunil-Kumar Sipaeya (Ind) 6-1, 7-5; 3-Vishnu Vardhan (Ind) bt James Feaver (GBR) 6-3, 6-4; Kittiphong Wachiramanowong (Thai) bt Srirambalaji Narayanaswamy (Ind) 6-7 (5-7), 6-4, 6-0.
(First round): James Feaver (GBR) bt Maximillian Neuchrist (Austria) 6-1, 6-7 (6-8), 6-1; 2-Adam Kellner (Hun) bt N. Vijay Sundar Prashanth (Ind) 3-6, 7-5, 6-1; 3-Vishnu Vardhan bt Suresh Krishna (Ind) 6-4, 6-3.