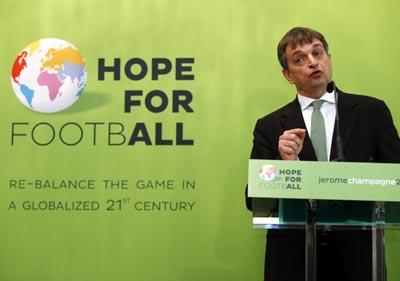 As results prove every week, nothing can be taken for granted in soccer and despite long odds, FIFA could next year have its first French president since Jules Rimet with Jerome Champagne planning to succeed Sepp Blatter.

Champagne, 55, wants to modernise the 110-year-old world governing body while keeping in place many of its traditional values.

"It is a very emotional issue for me," he said.

"As a teenager I worked at France Football, which was founded by Rimet in 1946. Now 37 years later I am in a position to run for an office Jules Rimet presided over. You can have these circles in life."

Champagne has an encyclopaedic knowledge of football history but he is more concerned right now with the game's future and more especially FIFA's future as the 21st century advances.

Once Blatter's trusted right-hand man and the campaign manager for the Swiss's successful 2002 election victory, Champagne announced his candidature for the most powerful job in the sport on Monday.

Blatter, who will be 78 in March and who has been at the helm of the world governing body since 1998, has yet to declare whether he will stand for a fifth term, though every indication is that he will.

UEFA head Michel Platini, 58, could also stand - meaning Champagne would be taking on men who he has had close ties with in the past.

For, as well as working with Blatter as FIFA's international advisor for much of his 11 years in Zurich, Champagne's introduction into the world of soccer politics came through his fellow Frenchman Platini.

And now he is prepared to meet them in public to air their policies.

"I would welcome a TV debate with anyone else who will stand. Football is so important for so many millions, let us show the world that we are open and democratic and transparent.

"The election next year is so important it will define football for the next 15 or 20 years so let us have a deep, meaningful discussion."

DIPLOMATIC CORPS

Champagne, who is married with three children, can best be described as a politically astute multi-lingual intellectual with a deep love of the game.

He was working for the French diplomatic corps in Los Angeles at the time of the 1994 World Cup in the United States when his career lurched towards his real passion of football.

Platini met Champagne while Platinii was in LA as part of his duties as joint-head of the organising committee for the 1998 finals in France and by 1997 Champagne had left the diplomatic corps and was involved in helping to organise those finals.

The following year, having impressed Blatter with his views on the world game when he drove him from an airport to a hotel, Blatter offered him a job in Zurch.

"The first day at FIFA was like a dream come true. The young boy whose passion was football, could never have imagined it happening. It was the best job in the world."

He remained at FIFA for 11 years until some Confederation presidents, led by the later-discredited Mohamed Bin Hammam of Qatar, organised a coup just before the 2010 World Cup in South Africa claiming that Champagne had become far too powerful and was exceeding his powers.

But even though he has been out of FIFA for four years he has not spent that time bemoaning his fate.

Instead he has been advising troubled FAs in beleaguered footballing hot spots like Kosovo, Cyprus and Palestine/Israel.

Last week FIFA confirmed that it was allowing its members to play friendly matches against teams from Kosovo, which is not a member of either UEFA or FIFA - a hugely positive step forwards for soccer in that country.

Last year the FAs of Turkey and Greece, at loggerheads over soccer in the divided island of Cyprus since 1955, signed an agreement aimed at unification while Champagne also helped broker meetings between the bitterest of enemies from Palestine and Israel.

REFORMING CAMPAIGN

One of the tenets of his reforming campaign is that while FIFA is too big, powerful and established to change totally, it must adapt far better to the demands of the modern world.

He wants a more democratic body, with an enlarged executive committee taking in national associations, leagues, players' organisations and women.

He underlines the divisions in soccer: clubs becoming more powerful, being controlled by mega-rich individuals, competitions becoming unbalanced because of ever more wealth concentrated in the hands of the relative few and says a balance needs to be re-introduced to the game.

But he also sees that FIFA is the only viable body that can right the wrongs, but that it needs to be stronger and more transparent.

"I am not saying I have all the answers, but I do think we need to have a very deep look at where we are heading. I maybe a traditionalist but I also believe in adapting. We need a modern FIFA for the modern world," he said.

Two years ago he published a 20,000-word document discussing how FIFA can best adapt to the 21st century, with the implementation of some far-reaching ideas and in this regard he is a direct descendant of Rimet, the visionary FIFA president from 1921-54 who, among other things, helped create the World Cup.

Champagne, if he should be elected, is unlikely to have that kind of impact on the world game.

But if brings some of the fizz and sparkle back to the governing body of the world's most popular sport, he would have done more than just live up to his name.
Image: Jerome Champagne
Photograph: Suzanne Plunkett/Reuters