Following deadly clashes at home in which at least 26 people were killed, the Ukraine's Olympic team wore black armbands at the 2014 Sochi Winter Games on Wednesday.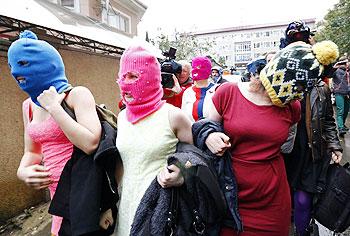 Praising the spirited Ukrainians, IOC President Thomas Bach added: "The way they have continued to represent their nation with great dignity is a credit to them and their country. Their presence here is a symbol that sport can build bridges and help to bring people from different backgrounds together in peace."
Russia, and its president, Vladimir Putin, are key players in Ukraine's crisis. Putin spoke with Yanukovich by telephone overnight.
On Wednesday, Moscow demanded Ukrainian opposition leaders "stop the bloodshed" in Kiev and said Russia would use all its influence to bring peace to its "friendly brother state".
Putin will hope events in Ukraine do not overshadow Russia's first Winter Games, where state-of-the-art venues and thrilling action have pushed criticism during the buildup to the Olympics firmly into the background.
The president attributed the criticism -- aimed at a law banning the promotion of homosexuality among minors and at the costs of staging the event -- to the West's Cold War mentality.
Threatened demonstrations have been few and far between, but the all-women protest group Pussy Riot attracted international media attention on Tuesday when they were detained for several hours at a Sochi police station.
On Wednesday, group members were beaten with whips by Cossacks who are helping patrol Sochi during the Olympics, as they tried to perform an anti-Putin protest song.
Video footage showed a man aiming what appeared to be pepper spray at one of them, a Cossack beating people with a whip and masks being ripped from protesters' heads.
"Most likely, this is some sort of a cheap provocation," said Konstantin Perenizhko, a deputy to the regional Cossack military leader.
Cossacks, once the patrolmen of Russia's borderlands, are meant to maintain order and work with police to make arrests.
Image: Masked members of protest band Pussy Riot leave a police station in Adler during the 2014 Sochi Winter Olympics on Tuesday
Photograph: Shamil Zhumatov/Reuters