BBC Hindi India Editor, Sanjeev Srivastava talks with India's Olympic champion Abhinav Bindra.
Below are excerpts from the interview on BBC Ek Mulaqat to be broadcast this Sunday [31 August 2008]:
SS: Like love at first sight with shooting?
AB: Yes, kind of, yes. I'm quite a loser. I've done nothing in my life for the past 12 years. I'd just eat, sleep, run and do nothing except shooting.
SS: Well, you said this so lightly-- I'm a loser. But when we speak to some big achievers like some star who may say that I can't go shopping in the market, someone may say I have this problem after achieving all this.
Now you have got an Olympic gold. But in a way, I can really appreciate it when you say-- I'm a loser-- because there must have been so many things you lost out on in that single minded focus.
AB: Yes, I think so. I haven't done anything else. I've done nothing. Sport is one part of life. There are so many things to life but I've done nothing. I've really done nothing else but focused on shooting.
SS: So friends? Parties? Disco? Dancing?
AB: Hardly. I've never been to a disco in my life.
SS: How did you like the last movies that you watched ?
AB: I preferred Jab We Met to Om Shanti Om, which I watched in a film theatre and it went on and on and just wouldn't finish Jab We Met was more fun.
SS: If you had to identify yourself with a film character-- not in real life but on screen, who would you feel closest to? Maybe, Kareena Kapoor from Jab We Met? Or Shahid Kapoor?
AB: I'm a Kareena Kapoor fan. I enjoy her films. But it's hard to relate to anybody.
SS: Tell us with all the things being said about you-- golden boy, golden man, gold finger, golden gun… how does it feel listening to all this-- does it feel funny or strange or flattering or do you think-- I have the same old hands and fingers?
AB: It sounds flattering but also very strange because I'm still the same person and will continue to be the same person. But it's flattering.
SS: And what about the whole experience-- has it been like a dream, sort of surreal or are you completely comfortable with it? I mean why doesn't it seem like you are enjoying it? That you are living this moment? You prepared for so many years for this moment…
AB: All this effort, all this work that I have put in for the last 12 years; I've never done it for the fame or for the publicity. It had never been my ambition. I had no interest in it. That never motivated me. That was never a point what I had done this for.
My only goal was to win at the Olympic Games. That was my passion. I wanted to do well for myself; I wanted to do well for my country and that was my goal. I have never been fascinated by fame and publicity so it's never appealed to me. So I'm just going with the flow. 
SS: I read an interview of yours where you talked about how a shooter is a loner; how there is a feeling of loneliness attached to a shooter. We read such descriptions in many sports and many novels related to different sportspeople in different sports, different professions.
So some of it has an element of romanticism that he is very lonely, and some of it is true that he is very alone. Every morning he goes to his shooting range and stands alone with his gun. What is the reality between these two perceptions?
AB: The reality is that you cannot ever figure out this sport. If today something works and if you go back tomorrow and try the same, you will fail completely. So it's a very challenging sport. You never know how you will actually do it.  Every day is a new day. If you solve one problem, other problems crop up.
So in that way it's a very challenging sport and that's why I've been fascinated by it. It's very challenging. Every day there's a new challenge.
SS: And every day when you face a new challenge, do you feel as alone?
AB: No well, in the beginning I used to think what am I doing? I could be doing something else; this is an every day headache.
But over a period of time, I started to enjoy it and enjoy the challenges. I already knew that if this is going right today, something will go wrong tomorrow. So I also have been prepared for that. So it's enjoyable.
SS: The more you talk, the more you confirm this image I have come with of you in my mind that 'I went to Beijing but I didn't see anything. I did my own thing, I was focused on my own thing'. It's very correct and proper.
If anyone else would have said it may have seemed a bit strange. But having seen and heard you, we have to come to expect that this is what you will say.
AB: You know an athlete's life seems very glamorous that he is going here and there, to the Olympics. The other side always looks greener. But I think an athlete's life is very hard. There's so much pressure, so many expectations, so many pressures that you face and at the end of the day it's very hard.
When you are competing, it's a tough experience. It's a very pressure-filled situation. It's enjoyable in a way and yet it's not enjoyable in many ways. You have to get comfortable with the feeling of that discomfort. There is a lot of discomfort and uncertainty. It's not all fun and frolic.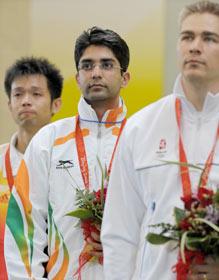 SS: So when you got the gold medal… to be honest, when I saw the national anthem playing on some channel and thought-- is that an ad? Why is the national anthem playing?
To be honest, you may have participated in three Olympics, but I saw your face for the first time. Then it suddenly sunk in that an Indian has won a gold medal. When you got the gold medal, you stood there looking as though you get a gold medal every day.
AB: Like I said, I went to the Olympics this time with no expectations and I went for my job. All my focus for the last four years was on performance. I didn't care that I have to win or lose. I had no fear and fortunately for me, it was my day.
And I won and I was happy. But I'm not a drama person. I'm not a Bollywood actor or something. I'm not the type to jump up and down. I was calm and composed because I realise that there is very little difference between winning and losing and I appreciate the fact that others also work hard and I respect that.
I was happy and I was enjoying the moment.
SS: If we return to the gold medal one last time-- when you said there that 'it's like being at the top of a mountain…'-- Is that what you said? Or is that what was reported most? Did you say that later? Had you already thought that this is what you will say-- that it's a lonely feeling; it's like being at the top of a mountain.
AB: In 2006, I won the World Championships. That, in my sport, is an even bigger competition than the Olympics because there is more participation. You have thrice the number of competitors. That's the ultimate competition in the sport-- the World Championships.
I won that.
Now you win the gold medal. It's like climbing a mountain. You struggle so much and you reach there but what is there?
There's really nothing there. Next is that you climb the mountain down again and try and climb the next mountain. So it's hard. It's a fact-- you climb a mountain and then there's nothing there.
It's the same-- if you become a billionaire suddenly, you get so much money. You enjoy it for some time but then what will you do with all that money?
SS: What was going on in your mind during those two minutes?
AB: I felt very proud. I laughed a lot because it was like a dream come true. It was something what I've waited for all these years. In the whole journey I had so many doubts.
I doubted myself as to whether I can do it or not. And finally I did it and I was just laughing at my own self and at those doubts which I had created for myself over the years.
SS: In this whole process, the one thing that came forth again and again-- whether it was in your medal, or in the boxer or wrestler's medals, you said it somewhere in a couple of interviews and it was also written that the credit goes to individuals rather than the system.
So is there some formula or quick fix that if this is done, things will be better here-on?
AB: No short cut. Unfortunately, there is no short cut. We need to work very hard. We have won three medals and there is a lot of excitement.
But I believe there is also a lot of responsibility now on the people who run sport in India. I have every belief that the athlete will work very hard but the athlete needs every opportunity to succeed. There needs to be a proper system in place. There needs to be a vision so that we work towards something and that is lacking unfortunately at the moment.
And until and unless something serious is done, I don't know how we are going to go on. And like I said, there is no quick fix solution. If we start now, then maybe in ten years' time we will get some benefits-- but only if we start now. So we have to wait and see if something happens.
SS: When we won these three medals, a lot of pundits wrote that the cricket fever will reduce and other sports will take over. Do you think so?
AB: I don't know. I still have doubts. But I think it's also a little bit of responsibility of the media because when you turn on the TV you see cricket, cricket and more cricket.
You watch a news channel, you see cricket, cricket and more cricket. If there is one match, there will be ten replays, ten shows debating the match. Okay, you show cricket, I have no problem. But in a day, at least for ten minutes, show some other sport.
SS: I'm sure now you'll get many invitations to go to discos and parties.
AB: Yes, but you don't to go to those kind of parties where you are the focus of all attention. What are you going to enjoy? Everybody is watching you only.
SS: Okay, so much has also been talked about your parents-- how much they have supported you, I mean there's a very ideal kind of picture created-- obedient son, supporting parents, they never pushed you so much to study and do this and do that like we normal parents do. So is that a true picture?
AB: Obviously not. It's not a fairy tale. Of course, I fight with my parents all the time. In my young age, my mother used to tell me to study and I didn't want to study, but my father was always supportive of the sport.
But on the whole they have been extremely supportive. Of course, they backed me financially with all the support but more than that for me the most important thing was their moral support. Even when I did not do well and even when I failed, that's the most important time and that's the time when they backed me.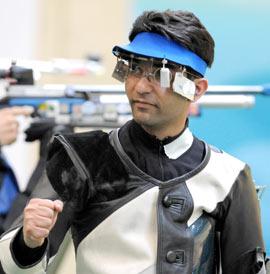 SS: So during those days, that phase-- and it must have been a long phase of self doubt-- when you were dedicated from the age of 13, and did nothing else, sacrificed everything, literally like the bird's eye for Arjun-- how did you keep yourself motivated?
AB: I think the passion for winning an Olympic medal was big enough to keep me going. There were many frustrating days-- hard times, rough times, you didn't feel like doing it, you weren't doing well, not able to perform, you're trying hard but you are not able to achieve your goals.
It was disappointing but over a period of time you get used to it and you learn to face it. At the end of it I started to face it very lightly. I never took it too seriously. Even winning I don't take so seriously and even defeat I don't like to take too seriously.
At the end of it what is important is to give it your best shot and to try and fight hard and to prepare to the best of your ability. That's all what you can do. What more can you do? I mean, winning requires so many little things to go right and you don't have control over every little detail.
So as long as you prepare to the best of your ability and work hard, I think that in itself is victory and that in itself gives you the most amount of satisfaction that you are going for a competition and you know that you could not do anything more to prepare yourself to achieve. If you achieve it or not, it's alright as long as you have given it your best. That's important.
SS: What is your favourite food?
AB: At the moment, home cooked food because I've been away for so long and I like  Chicken and roti.
SS: How do you feel now when some people say that Sachin Tendulkar, your favourite cricketer is over the hill or he's past his prime?
AB: Hard to say. I mean he's achieved so much over the years. I think we should appreciate that fact. We should focus on what he's done. We keep increasing our expectations but it's not always possible to live up to those expectations because everybody's human. I think we should focus on what he's achieved.
SS: Now tell us for the next few years, obviously the things you haven't done so far must be top of the agenda other than shooting. But how will you follow that life? For shooting you knew you had a coach, a mental coach, knew you had to lessen your heartbeat rate. Now how will you know how to find a girl friend...
AB: It's challenging. It's very challenging. I have to begin everything from scratch. It's hard. It's challenging to begin everything from scratch, a new life almost. Everything is going to be new. It's going to be hard. But I'll face it and try and enjoy the journey. It's going to be challenging because I've really done nothing for the past 12 years but shooting.
SS: Does Abhinav Bindra really have no girl friend? Any really close friend?
AB: Yes, I have a lot of friends but no girl friend in particular. I have a lot of friends and close group of friends.
SS: Last question Abhinav. If I tell you to describe yourself in one or two lines-- what would you say?
AB: I think I'm a very determined individual. I'm quite mentally tough. I don't get carried away so easily and I can face a lot of adversity. So that way I'm quite a toughie. I can say that.
Ek Mulaqat is a weekly chat show presented by BBC Hindi India Editor, Sanjeev Srivastava. The programme brings lively and informative interviews with some of India's most famous people, including politicians, artists, sports personalities and Bollywood stars.