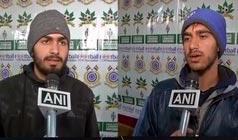 Two budding footballers from Jammu and Kashmir state are set to fly to Spain to play for a third division club.

Mohammed Asrar Rehbar and Basit Ahmed, two 18-year old footballers hailing from Srinagar, have been shortlisted to play for Sociedad Deportiva Lenense, a third division -- Segunda División B -- professional club in Spain.

The selection was conducted as part of the collaboration between Central Reserve Police Force (CRPF) and a local football organisation.

While Rehbar has played in the Santosh Trophy and Durand Cup, Ahmad has played as a striker for various Kashmiri clubs.