Steve Darcis's joy at knocking Rafael Nadal out in the first round at Wimbledon turned to despair on Wednesday as the lowly-ranked Belgian withdrew due to a shoulder injury.

The 29-year-old's stunning victory over the twice former champion went down as one of the tournament's greatest shocks and elevated the journeyman player into the limelight.
- 'The Shark' bites back to make his name with Nadal defeat

"Had to withdraw after a win like this!? The most difficult thing I've ever had to do!!!," Darcis said on Twitter, adding that he had tried everything to play but it had not worked.

Darcis had been scheduled to play in the third match on Court 17 on Wednesday against Poland's Lukasz Kubot.
- Nadal puts the gentleman in gentlemen's singles

Kubot, guaranteed an extra 25,000 pounds ($38,500) for his walkover into round three, will face a Frenchman in the third round - either Benoit Paire or Stephane Robert.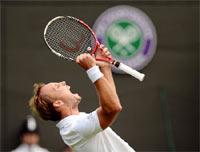 Darcis said he had been unable to sleep after his startling straight sets win over fifth seed Nadal on Monday because of the pain in his serving arm.

"It happened against Rafa in the middle of the first set when I fell down," the Belgian told a news conference.

"I started to feel it a little bit. When it was warm, it was okay. I had no pain. After a few games, I was feeling great.

SHOULDER PAIN

"After the match, a few hours after, I start to feel so much pain, I couldn't sleep the night. I saw the physio, the doctor, yesterday. They did a good job. It's a little bit better today.

"But no chance I can play. I mean, I cannot serve. Even on the forehand side, I cannot hit a ball."

Nadal's first-round defeat on Monday was the second year in a row that the Spanish 12-times major champion had exited at the hands of an obscure opponent.

Last year it was Czech Lukas Rosol who caused a huge shock in the second round but, just like Darcis, he did not last much longer, falling to Philipp Kohlschreiber in the next round.

"When you beat a guy like Rafa first round, you want to show more, you want to play more matches," Darcis said. "I was playing maybe the best tennis in my life here.

"It's maybe the most disappointing thing I have to do."

"Okay, I beat Nadal, it's great. But the big thing today is that I cannot play, and this is the thing I have in my mind.

"It's not happy memories right now."

Darcis was one of several injury victims in the men's draw on Wednesday with American John Isner and Czech Radek Stepanek retiring injured from their second round matches. ($1 = 0.6492 British pounds).
Photograph: Mike Hewitt/Getty Images