Novak Djokovic extended his perfect record this season to 17-0 with a thrilling 6-3, 3-6, 6-2 victory over three-times champion Roger Federer on Saturday to reach the Indian Wells final.
Red-hot Djokovic, who will replace Swiss Federer as world number two when the new rankings are issued on Monday, broke his opponent three times in a third set of brilliant shot-making to triumph in just over two hours.
The 23-year-old Serb will face top seed Rafa Nadal for the title on Sunday, the Spanish left-hander having come from 1-4 down to power past former US Open champion Juan Martin del Potro of Argentina 6-4, 6-4 in Saturday's first semi-final.
Nadal, covering the court with lightning speed, broke del Potro's serve three times in a high-quality encounter at the Indian Wells Tennis Garden to win in one hour 51 minutes.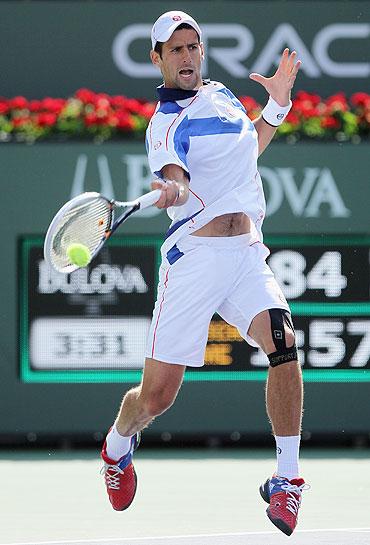 "That was the biggest test of the tournament for me today," Australian Open champion Djokovic said courtside after sealing victory when a Federer backhand service return flew long. "Any time I play Roger, it's a big challenge.
"I didn't really pay too much attention on who is favourite or number one, number two in the rankings. I just wanted to take that match as another big challenge. It was very good."
Djokovic, roared on by flag-waving Serbian fans, felt the fifth game of the third set, when he came from 15-40 down on Federer's serve to win 11 points in a row, had paved the way for his third successive victory over the Swiss this year.
"It was a very close match up to the last point and you really couldn't say who's gonna take the win," the Serbian world number three said. "That fifth game was crucial."
A mouth-watering final set was on the cards after Djokovic won the first set and Federer the second, each of them after breaking twice with scintillating form from the baseline.
At that point, the ice-cool Federer appeared to have the momentum but it was short-lived as he failed to hold serve in the opening game of the third set.
Although he broke back with a dazzling display in the fourth when his opponent double-faulted, the Swiss failed to hold serve in the fifth and seventh games as the Serb took control with steadier tennis.
FADING FEDERER
Serving in a hotly contested eighth game, 2008 champion Djokovic squandered one match point before booking his place in the final on the second attempt when a fading Federer pushed a backhand service return long.
"I had my chances today in the singles," Federer said several hours later after he and fellow Swiss Stanislas Wawrinka were beaten 6-4, 6-7, 10-7 in the men's doubles final by Ukrainian Alexandr Dolgopolov and Belgian Xavier Malisse.
"I wasn't far away at all today, because I really had him going but I guess he escaped. Confidence is a big thing for him at the moment. I'm sure it's gonna be a good final tomorrow."
Djokovic has been the dominant figure in the men's game this year, crushing Andy Murray 6-4, 6-2, 6-3 to claim his second Australian Open title in January and then outplaying Federer 6-3, 6-3 to win last month's Dubai championships.
"I've played the best tennis of my life in the last three months ... I think I deserve it," the Serb said of his imminent return to second in the ATP rankings.
Nadal, champion here in 2007 and 2009, ended a three-match losing streak against del Potro, who had won their previous encounter 6-2, 6-2, 6-2 in the 2009 US Open semi-finals.
A whipping top-spin forehand winner set up a first match point for the Spaniard who immediately converted when the towering Argentine sent a backhand service return long.
"I played my best match in Indian Wells this year by far," the 24-year-old Nadal said after improving his win-loss record this season to 14-2.
"To be in the Indian Wells final is a very big personal satisfaction for me and gives me a lot of motivation. For me, the motivation is not the opponent; it is the tournament."
Nadal, the French Open, Wimbledon and US Open champion, has a 16-7 career record over Djokovic and has beaten the Serb in their last two meetings.
"We know each other 100 percent," he said. "The player who has better inspiration that day is the player who is gonna have better chances to win."