Stung by the two-year ban imposed on him, veteran tennis ace Mahesh Bhupathi hit back at the All India Tennis Association on Tuesday, accusing the game's governing body of resorting to "divide-and-rule" policy and said its "dictatorial attitude" will be harmful for the future of Indian tennis.
A hurt Bhupathi made a scathing attack on the AITA and its president Anil Khanna, who he alleged is playing "dirty politics" and creating a rift among players, particularly between him and Leander Paes.
"Khanna has redefined the term divide and rule. The AITA and its dictatorial attitude, and its administration are harmful for the future of Indian tennis," said Bhupathi, addressing a press conference in Mumbai, during which he also circulated his correspondence with the AITA ahead of the London Olympics.
The veteran tennis pro said he has no choice but to accept the ban, and also explore legal options.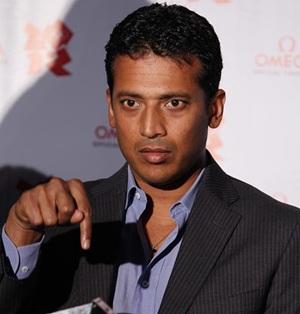 "My being termed a dictator is unacceptable to me. I don't know if we can do anything, but there is no option not to accept the ban. We will definitely pursue a legal route. (My) lawyers are deciding the course of action; can't say much now," he said.
He minced no words as he launched an attack against Khanna. "He has redefined the term divide and rule and at this year's Olympics he used Leander's shoulder to fire the gun against me multiple times. Unfortunately the media terms this a Bhupathi-Paes rift and the true underbelly is left unquestioned.
"As far as I am concerned, I was always banned by the AITA, they never supported anything I did for the sport, only when they couldn't do without me and they needed the doubles point in Davis Cup, I got the e-mail.
"They continue to misuse the power they have to try and teach me a lesson only because they feel I am able to do a lot more for the sports than they do and in the midst of all this, not only did we players suffer but so did the sport and in turn the country," he said.
Bhupathi said he was available for last week's Davis Cup tie against New Zealand and was not informed about the ban by the AITA.
"I always feel like playing for India. I was available for the tie last week but no one from AITA asked me. I actually got an e-mail about the ban from a press person. Didn't hear anything from AITA.
"I played my last match for India in the present circumstances (London Games) and next year will be my last on the tour definitely. A lot of people celebrated on the day we lost (in the Olympics)," he said.
He urged either the Sports Ministry or Indian Olympic Association to intervene.
"There are powers like IOA or Sports Ministry who can take action. I don't know who to complain to. If it is Sports Ministry or IOA or somebody, it needs to step in for Indian tennis."
Despite giving his all, he said he never got cooperation from the AITA.
"Tennis has given me everything I am today and, by God's grace, I am able to give back a lot to the sport. I have running tennis events, building tennis courts, raising money for talented kids and even opening academies across the country.
"However, at every step of the way, the establishment has put spokes in the wheel. So much so that they changed the constitution to make sure I am not able to run any event in India without them being a part of it.
"Anil has been upset with me for being able to develop talent, which he should have done. For developing avenue and for developing the game."
Talking about the fiasco ahead of the Games, he said: "No one made an effort to talk to me or Leander. Zero effort was made to get us in a room and solve the issue.
"Two days after the beginning of French Open, AITA told me that we (Bhupathi and Sania Mirza) weren't the obvious choice for mixed doubles in Olympics."