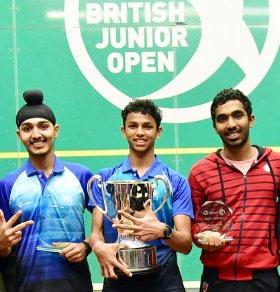 It turned out to be a dream tournament for India as the boys the medals, winning a gold, silver and bronze, in the U-19 category in the prestigious British Junior Open.
Velavan Senthilkumar won the coveted Drysdale Cup (becoming only the third Indian after Anil Nair and Sourav Ghosal to do so) with a 15-13, 11-2, 10-12, 11-7 win over compatriot and unseeded Abhay Singh in a close final.
And bringing home added cheer was the bronze medal effort of Adhitya Raghavan.
Only five years ago the story of these players was so different.
At the Junior National of 2011 for instance – Velavan had finished seventh, Abhay did not qualify for the main draw in the U-15 category while Adhitya was fifth in the U-13s.
"A lesson then for upcoming players that working hard with dedication, discipline and devotion do pay dividends," said national coach Cyrus Poncha.
Image: Second-placed Abhay Singh, winner Velavan Senthilkumar and third-placed Adhitya Raghavan on the podium after sweeping the top-places at the British Junior Open in Sheffield, United Kingdom, on Saturday
Photograph: SAI Media/Twitter